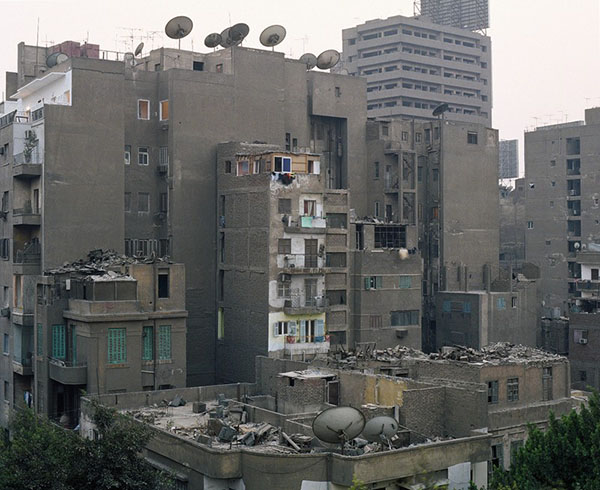 Yiannis Hadjiaslanis is a photographer based in Athens, Greece. He predominantly works with landscapes and architecture, documenting the perpetuations of memory, the present and futures of lived environments, and their significance for those who create, interact and evolve with them. Much of his work engages with questions surrounding the interpretation of the real and the perceived, bridging social documentary and art. Hadjiaslanis is represented by Kalfayan Galleries, Athens-Thessaloniki. He is a member of the 'Depression Era' collective.

How did your interest in photography start out? Tell us about your educational path. How did your studies impact on your own narrative?
Yiannis Hadjiaslanis (YH): Both my father and his father were amateur photographers and shared a great admiration for image making. So from a very early age I found myself fiddling around with lens caps, viewfinders and slide carousels. My father was also collecting photography books, mostly of landscapes and travel. When I was around ten, I made a news magazine, using cutouts from comic books and captions of my own. But it was not until the late 90s that I considered making photography a way of life and a profession. During my bachelor studies as a creative in advertising, I took a course in photojournalism and printed a small portfolio in the darkroom. In the summer, the art director of the agency I was assisting as an intern saw my portfolio and told me I should free myself from the office workspace and pursue photography. We only met once again some years later, in a street café. He had also quit his job. Soon after, I moved to London and enrolled in two post grad photography courses, spending most of my time in the darkroom making black and white prints and experimenting with chemicals, salts and alternative processes while at the same being introduced to the digital realm in the computer lab. I processed and printed more than I shot at the time, my subjects being for the most part landscapes and nature, a very conscious escape from the city.

How did your research evolve with respect to those early days and how it led to the 'Downtown' or 'Perimeter' series?
YH: Upon my return in Athens I started taking on commercial commissions and collaborated with magazines, which improved and refined my technical skills. I moved on to a bigger format, and started focusing on my closer environs. It felt good to be back in Athens, and in the post-Olympic anticlimax I started exploring the urban environment. 'Downtown' was my introduction to life in central Cairo, shot in the fall of 2008. Being discouraged to photograph with a large camera and tripod in the center of town, I got access on surrounding roofs where I took photos of the neighborhood I was living in as well as the one adjacent to it, which was destroyed by an earthquake and left derelict, awaiting future gentrification. For me these images work like quiet emanations of the city. Interestingly, these areas were the backdrop of the January 25 Revolution three years later.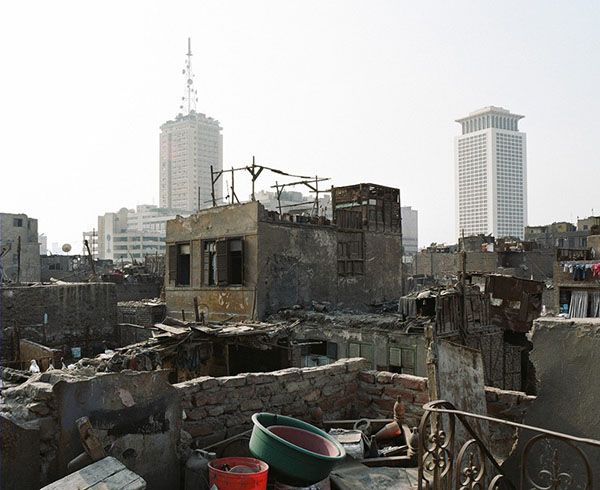 © Yiannis Hadjiaslanis from the series 'Downtown'
The summer of that same year (2011), when the voting of austerity measures in Greece turned the center of Athens into a battle ground, I came upon some WWII bunkers in the surrounding city coast. Spending the majority of that summer in the city, I set out to document these structures, all along the beaches and the railroad network between Athens and Corinth. Built by the Axis powers seventy years ago and long forgotten, yet still indestructible and concealed, they acquired a monumental value in their state of non-use, discarded reminders of invasion and occupation.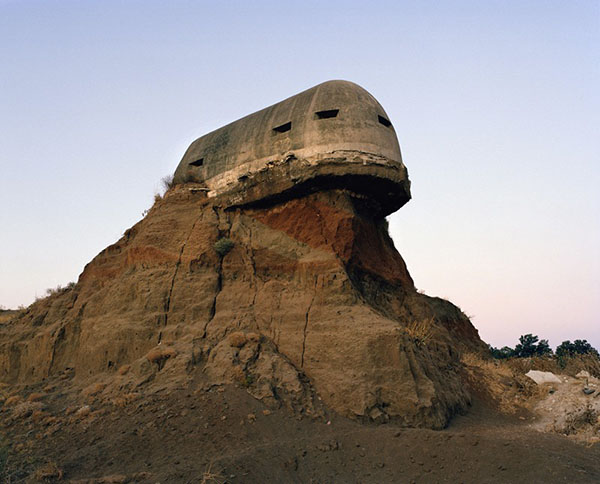 © Yiannis Hadjiaslanis from the series 'Perimeter'

You are based in Athens but your work has been produced outside the Greek National boundaries with a special interest in Africa, Egypt, Morocco, Ethiopia, and South Africa. Why is that choice?

YH: Greece has always been a crossroad between the three continents linked by the Mediterranean sea, which again today can't be more obvious. And since its inception as a modern republic, based on a constructed idealization and celebration of its classical past, Greek culture and identity are impregnated with paradoxes. One of the most fundamental ones, being its struggle of association between East and West. Since my return in Athens thirteen years ago, my interest in the southeast Mediterranean, the Middle East, and Africa comes from my own quest and questioning of identity.

Your series 'After Dark' at the beginning of economic crisis in Greece received much interest and was exhibited in many countries, how do relate this era to your work?

YH: This series was made right after 'Perimeter', and refers to a very specific time period, from 2012 to 2013. I started shooting in February 2012, right after the biggest anti-austerity demonstration, which took place in the center of Athens, during which many buildings were set on fire. I decided to photograph at night and focused on spaces that were very familiar to me. Places which are close to where I live and others that I visit on a regular basis. During those days the city center looked and felt completely abandoned and desolate, a ghost town. Monuments and public spaces, which symbolize the modern state's heritage and claims through the ages, took on a sinister look. And through the lens they became more like portraits rather than locations, tight and suffocating. So, from 'Perimeter', which is about the circumference of the city, 'After Dark' is about its core.

© Yiannis Hadjiaslanis from the series 'After Dark'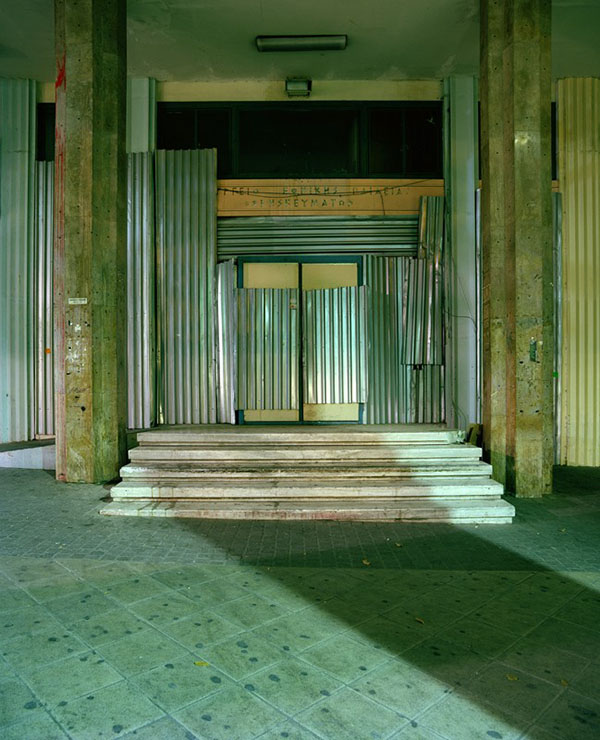 © Yiannis Hadjiaslanis from the series 'After Dark'

When you start a project you already have an idea of where you're going, or do you let yourself be guided by experimentation, by the process itself? How do you alternate between fine art photography and commission work?

YH: I don't usually work with preexisting concepts. The process itself is always the best guide. Commercial practice has helped me a lot in acquiring technical knowledge. My first commissions and majority of such work up till today have been interiors and architecture, and that has also played a major role in my own practice. I have always been very interested in spaces, our experience, understanding and questioning of them.

'11 Guard Posts' and 'Drive' are your most recent photographic works, can you tell us more about them?
YH: 'Drive' is a series of photographs I made while commuting in Johannesburg. But in a way they are about Joburg as much as they are about the evolution of any big city today, and more particularly the utopian American urban environment and its racial divides, which Johannesburg was modeled upon. It is about where we have arrived today and where we are going. Non-places, transient urban settings, which look more like backdrops. The plays and dynamics within them are up to the imagination of the viewer.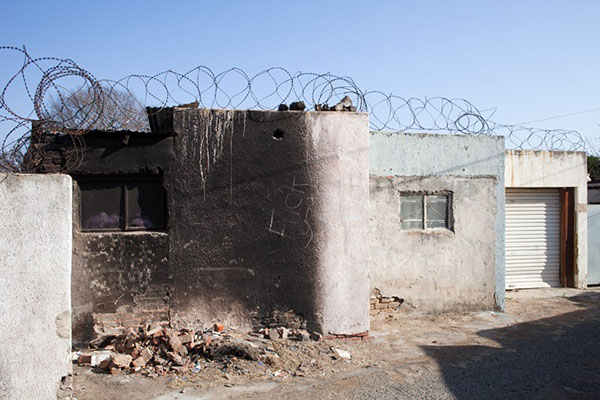 © Yiannis Hadjiaslanis from the series 'After Dark'
'11 Guard Posts' are part of a larger project I worked on earlier this year in Addis Ababa. The Ethiopian capital is experiencing a total urban "regeneration", where expropriation of land is causing major displacement and social unrest, both in its center and expanding limits. This series is a typology of DIY surveillance posts on construction sites booming on agricultural land.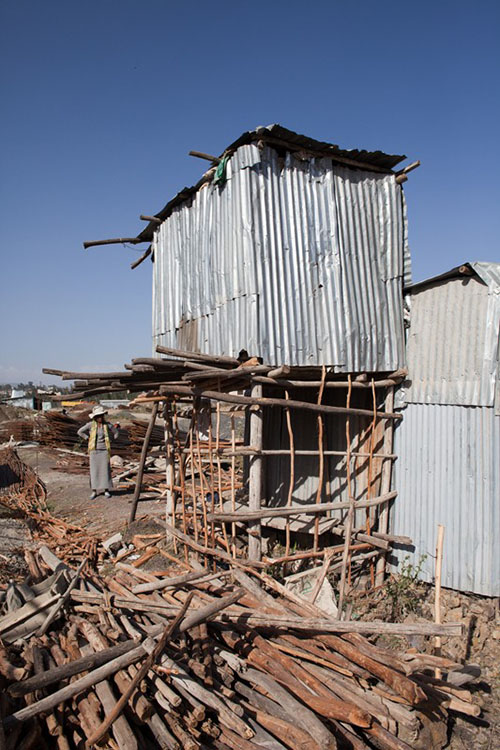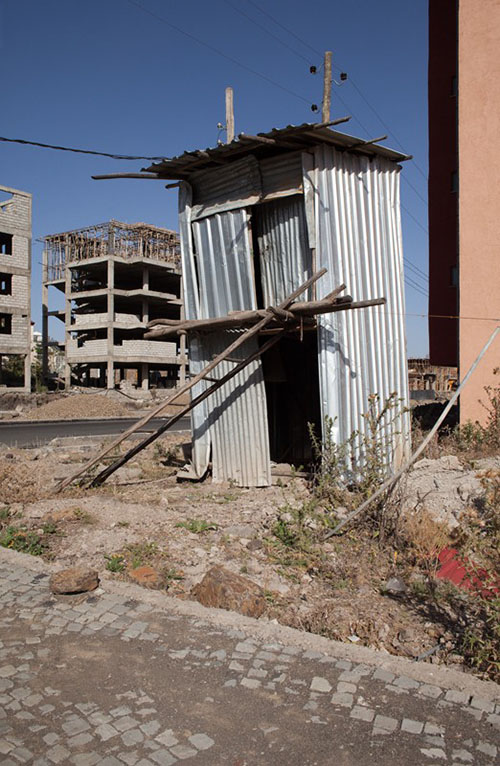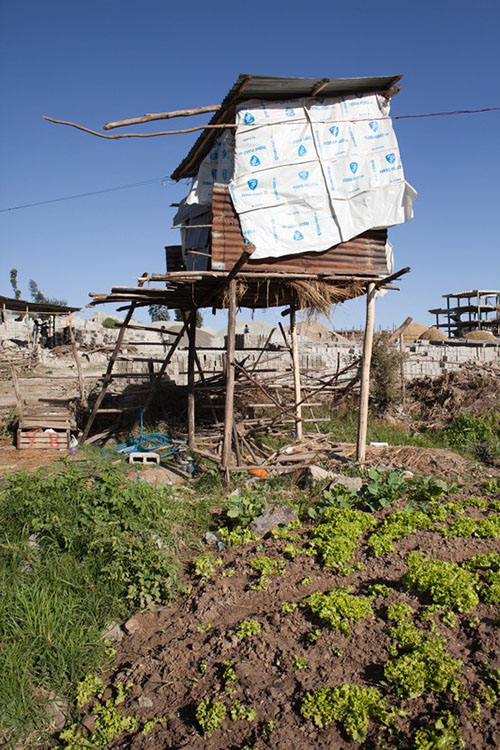 © Yiannis Hadjiaslanis from the series '11 Guard Posts'

Any mentor, teacher or anybody else that has had an impact on how you understand your work?
YH: I can't think of someone in particular. All daily encounters are important. The conversations or even short remarks that have challenged me or taught me the most have been from people who do not come from the photography world or the art world.

Do you have any comments on how photography has been or is evolving in Greece? Is there anything you have observed in particular?
YH: Photography in Greece has been flourishing and maturing a lot in the last few years. There is a true dynamic, a large rise in number of young photographers from all fields who are producing thought provoking work, whether it is photojournalists or artists, as well as an evident sense of solidarity and support between photographers.

Three books of photography that you recommend?
YH: 'Avenue Patrice Lumumba' by Guy Tillim, 'Field Trip' by Martin Kollar, and one that I also wish to see in its original edition, 'Chizu' by Kikuji Kawada.

Projects that you are working on now and plans for the future?
YH: At the moment I am finishing an edit of the project I shot in Addis, which I am interested in publishing in book form. The series deals with the student movement opposing land regulations and the uncompromising use of government police force, reminiscent of the 'Land to the Tiller' movement of the 1960's, which led to the Ethiopian revolution.


---