LAURENT KRONENTAL. SOUVENIR D'UN FUTUR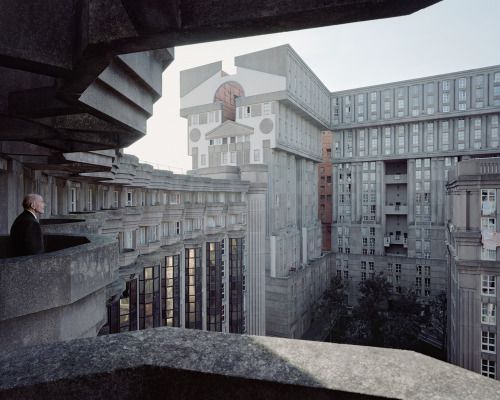 © Laurent Kronental from the series 'Souvenir d'un Futur'
Tell us about your approach to photography. How it all started? What are your memories of your first shots?
LAURENT KRONENTAL (LK): My passion for the image goes back to my childhood, but I only started photography at the age of 22, while traveling for six months in China. I was then living in Beijing and was using a small compact digital camera to capture my Asian experience. Fascinated by large cities, I was very excited to be part of one of them and be able to visit the country that had intrigued me for so long. From mega-cities to rural areas, everything in this country is overwhelming. I was quite impressed by the speed at which China was evolving, and the singular contrasts between modernity and tradition. I'd never experienced such urban density. Then, Hong Kong was determinant. I was literally absorbed by its atmosphere: the palpable tension of an ultra-futuristic city mixing thousands of neon signs and skyscrapers with apartment buildings; an overcrowded labyrinth of streets, markets and small shops down below and millionaires' residences and luxury; an outstanding, extremely tight verticality over an overwhelming jungle. Hong Kong, city of excesses, city of extremes, certainly unconsciously contributed to stimulate a research into the juxtaposition of different periods and an attraction for the ways in which man tamed space and architecture.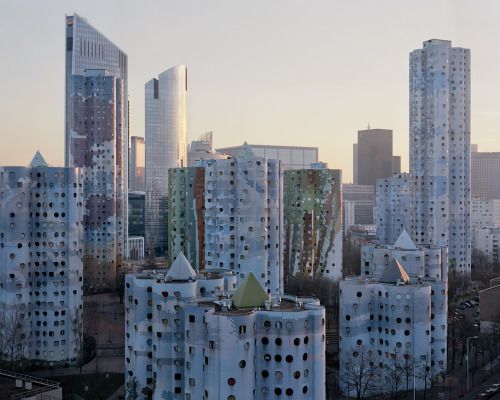 © Laurent Kronental from the series 'Souvenir d'un Futur'
How did your research evolve with respect to those early days?
LK: I am a self-taught photographer. So after returning from Asia, I purchased a full format digital camera and practiced, strolling around the district of La Défense, which I found quite photogenic; it allowed me to develop my critical sense while learning from my mistakes. With time, I came to wonder about what I really wanted to show. It was important for me to give meaning to my photographs. I then discovered in the neighboring city of Courbevoie a tiny little street where time seemed suspended for years – countryside at the foot of office buildings. The place was surreal. I befriended a couple of old people and started to photograph them. Their traditional garden offered a stark contrast with the surrounding skyline of towers in La Défense, bringing together two different eras, two different living styles.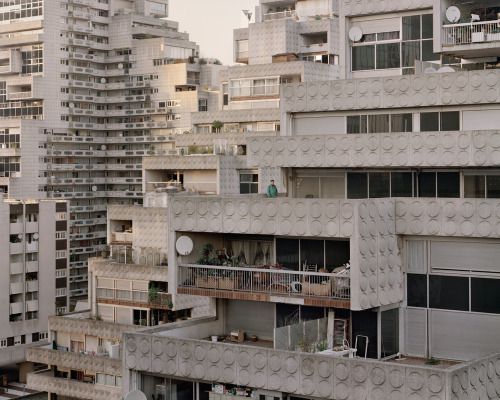 © Laurent Kronental from the series 'Souvenir d'un Futur'
I subsequently developed a strong interest for the architecture of large housing projects that moved me in a particular way: torn between attraction and rejection, I was amazed by these giants, almost Pharaonic structures of concrete, wondering how, why and in what contexts they had been built. Two neighborhoods near my home became central to my research: the "Damiers" and the Aillaud Towers (Pablo Picasso project) (Hauts-de-Seine, 92). The more I photographed them, the more I was amazed. There was a very troubling paradox between a feeling of near-apocalyptic abandonment, and a very strong presence of life, apparently much more intense than in other neighborhoods I'd visited. The buildings seemed timeless, as if their reason for being oscillated between past and present. As I observed these two worlds – that of aging concrete, and that of the life occupying it – it became clear that I ought to capture the fate of these buildings and of the aging people that lived in them before they all vanished.
© Laurent Kronental from the series 'Souvenir d'un Futur'
What do you think about photography in the era of digital and social networking?
LK: Social networks are the medium for rich and fast exchange. For me, they are an invaluable help for artists; they can create an instant dialogue with other Internet users by sharing their intentions and collecting their feelings.
About your work now. How would you describe your personal research in general?
LK: My work is guided by several points of interest:
- First, architecture and the life that it accommodates. To me, it means highlighting through photography the links of cohesion or fracture between the architecture and the social harmony to which it is supposed to lead. Architecture is also an expression of beauty, of the useful and rare, and I would like to render these values in my images.
- Then, the city, its living and working areas, its industrial and peripheral districts, as well as its organization within the existing nature.
- I'm also passionate about life stories and human nature. I am attracted to faces that express personal experiences. I am naturally interested in marginal people, with atypical background.
- I am also fascinated by the impact that fiction has on reality and by the vision of futuristic modernity in view of past expectations.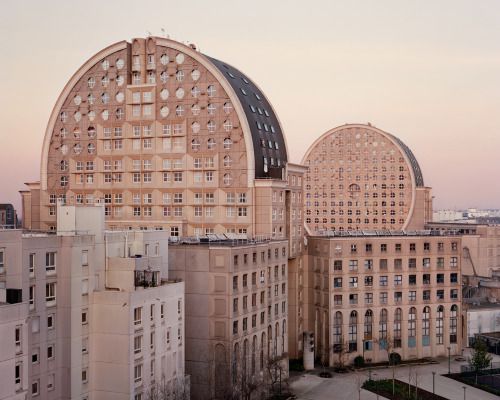 © Laurent Kronental from the series 'Souvenir d'un Futur'
Do you have any preferences in terms of cameras, techniques and format?
LK: I prefer to use a 4x5 large format camera, especially for my artistic work. It's an extraordinary tool that I would not be able to do without now, as this was such a rewarding discovery. I realized my series 'Souvenir d'un Futur' with such a camera. The large format camera provides incomparable definition, with softness, depth and modeling. The result is truly stunning: in terms of the dynamics, the contours and the perspectives it offers, with a much stronger impact than with digital cameras. Through the complexity of its settings and the cost of materials, this camera forces the photographer to give it an extra thought, a further appreciation of the subject, more reflection about the message to be conveyed, and therefore creates a different relation with time in the process of artistic creation. It is an ideal tool for mastering composition.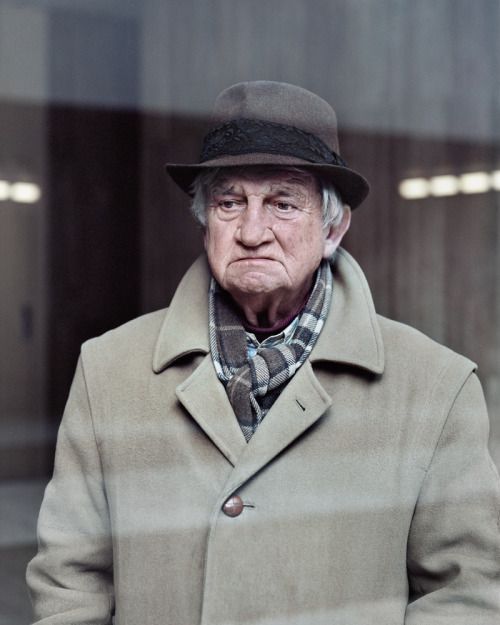 © Laurent Kronental from the series 'Souvenir d'un Futur'
Moreover, the large format camera offers an opportunity to master the geometry of the image through tilt and shift options. Finally, the amount of details on film (4x5 negatives) allows for powerful high-quality prints. What a delight!
Tell us about your project 'Souvenir d'un Futur'. What's the message behind?
LK: 'Souvenir d'un Futur' questions the raison d'être of the "great housing projects" more than half a century after their construction. Through photographs of Parisian suburban areas, the series captures the quotidian of older people living in these buildings that were born out of Post-War architects' ambition of greatness.
The photographs bring us back to a modernist past where the new city blossomed out of boldness and the promise of a better living. Furthermore, the series confronts us with our own ageing process, our family, our society, and the way in which we have allowed the erosion of social and generational ties. The photographs offer a reflection about the need to give back to the elders the social dimension that these big housing projects failed to bring them.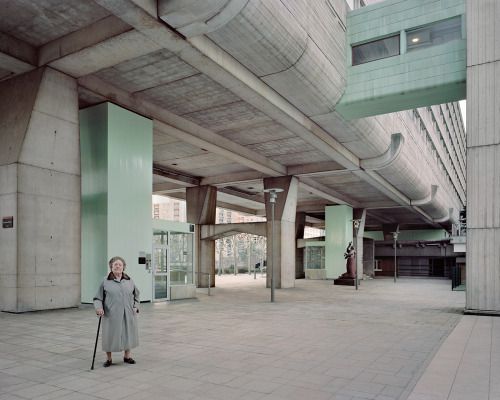 © Laurent Kronental from the series 'Souvenir d'un Futur'
As today's town planners have been assigned the task of obliterating the scars of the discarded Babel-like architecture, its original population is also nearing the endgame, as if doomed to share the fate of the walls that have circumscribed their lives.
These elders express particular strength: they are the only ones to fill up the space in this series from which youth has purposely been obliterated. By settling down in these futuristic buildings then, they have re-conquered a space, one that was not originally intended for them and which is now considered abandoned.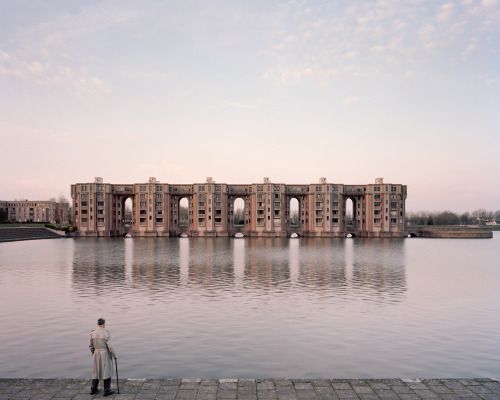 © Laurent Kronental from the series 'Souvenir d'un Futur'
I wanted to exchange with this generation in order to understand their lives and debunk a certain pejorative image of old age. I have led this project with a will to document, so that in the future, our society and its architects, their structures and services will give back a social role to the elderly, and the legitimacy and respect that is due to them.
Is there any contemporary artist or photographer, even if young and emerging, who influenced you in some way?
LK: Some of the photographers that inspired me the most are Nadav Kander, Alec Soth and Pieter Hugo.
Others have also been a source of inspiration such as Simon Norfolk, Michael Wolf, Naoya Hatakeyama, Todd Hido, Jeff Wall or Alexander Gronsky.
Three books of photography that you recommend?
1. 'Yangtze the Long River', by Nadav Kander
2. 'Sleeping by the Mississippi', by Alec Soth
3. 'Nollywood', by Pieter Hugo
Is there any show you've seen recently that you find inspiring?
LK: This year, Paris Photo was very inspiring, with several galleries and loads of very talented artists. I loved 'Industry' by Yves Marchand and Romain Meffre at Polka Gallery. More recently at the Arles festival, I also loved 'Tourisme de la Desolation' by Ambroise Tezenas or North Korea by Alice Wielinga.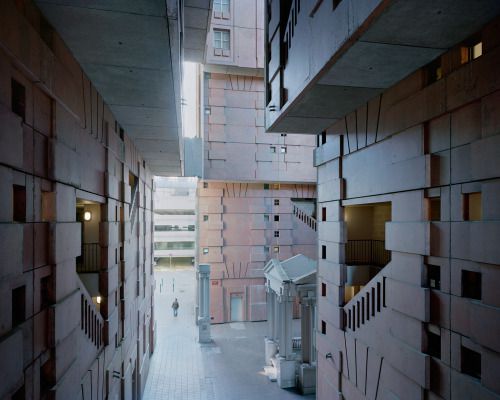 © Laurent Kronental from the series 'Souvenir d'un Futur'
Projects that you are working on now and plans for the future?
LK: I will complete my project 'Souvenir d'un Futur' in the next few months in order to perhaps make a book out of it. I have also been working on a second series in the last two years, again related to big housing projects; I hope to be able to present it soon. And I am planning on starting a new project from 2016.

---

LINKS
Laurent Kronental
France