NICOLAS HAVETTE. FROM NOTHING COMES SOMETHING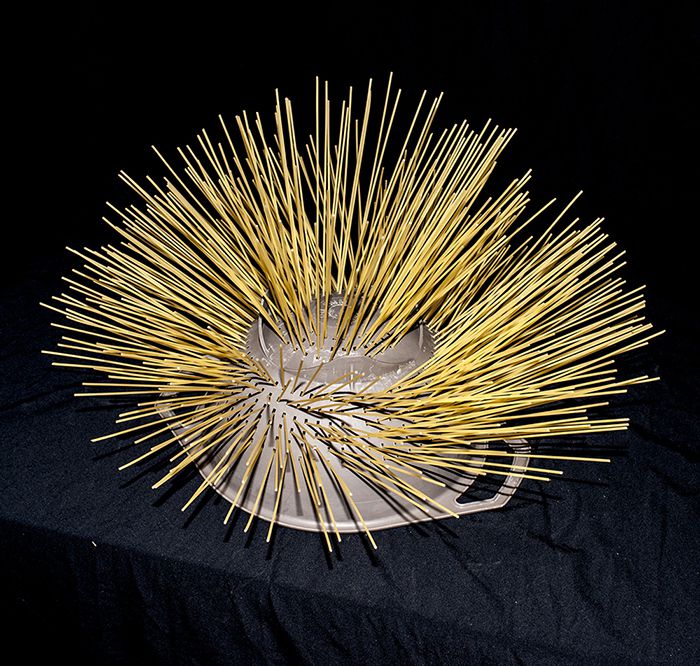 © Robin Lopvet, courtesy Galerie Le Magasin de Jouets

Tell us about your approach to photography.
Nicolas Havette (NH): For amateur and professional: photography express the way of how one person is experiencing the world, his distance with it, his point of view and furthermore what he/she wants to remember and sometimes share about it. By a mirror effect photography also is about what we decide to forget and what you decide to not see and not share... Photography is about collecting small pieces of the world and creating slowly by slowly your personal totem with them (Flickr, Instagram, Facebook, Museum collections, family albums...). That is how I see the act of photographing, the frame of this activity.
Now I propose you to go inside. What really happens when you press the button, when your brain and your eyes and your body at the same time decide to press the trigger? Our pictures speak about how we mix between the sum of our multiple passed experiences (our inner story), and our capacity to be permeable to the world: to be fully there at one particular time at a particular place. It is how you handle the relationship between the identity you think you have in front of the chaos of the signs that the world is proposing us permanently.
It's literally a struggle between what you are able to recognize with your brain and what you are able to discover and learn with your eyes. Photography is about searching our place as a single person in the middle of the complexity of the world, it is politic. Are we sculpting the world in the aim of making it seem as what we want it to be? But you're asking me about photography... a thin notion today which can be englobed into the larger idea of images. We are much more surrounded by images than photography... but it is another question.
How it all started?
NH: You mean my relationship with photography? When I took conscious that I had to look back to all what I've been taught by people, institution, media which purposes were not to open the doors but to lead on a small corridor... And when I took conscious that I will never stop going forward in that way. Like in the painting of Caravaggio "The Incredulity of Saint Thomas": Saint Thomas doesn't believe what the others said about the resurrection. He didn't believe either what he was watching, as we generally say about him: "I only believe in what I see". In that particular painting, St Thomas is shown touching the impossible non bloody wound of the Christ. He is touching it, experiencing it physically. It's a message from that genius painter: "We all have to touch the world to experiment its magical truth". Then we need to be able to find a language to share it, as a comparaison with other experiences. But when you decide to re-present it most part of the time: "you only see what you believe in"... It's a duality between searching for knowledge and find evidences to consolidate your psychological confort zone.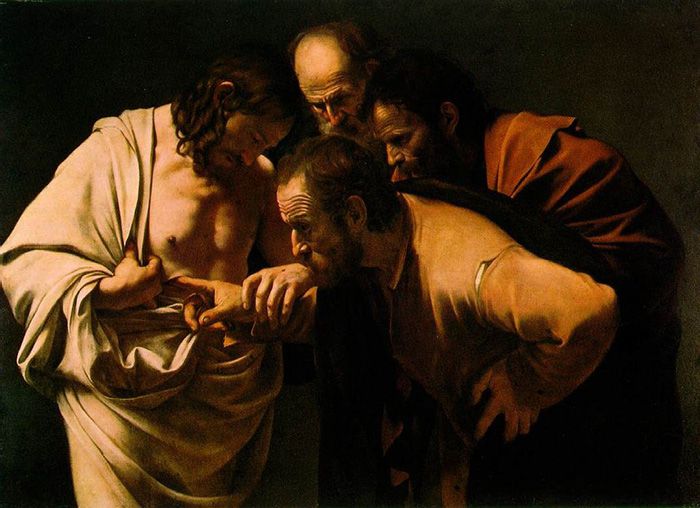 The Incredulity of Saint Thomas, Caravaggio, c. 1601–1602

How did you first get into curating exhibitions?
NH: When I was in the fine art school of Rennes in Brittany I did decide that my language will be photography and then when I studied in the national photography school in Arles my language became photography and space & screen: exhibition / photo-film... In fact, I did visit so many bad exhibitions that I decided to try to do better. An exhibition is like a theatre piece, it is so much depending on scenography and directors. I have the feeling that curating is like translating from one langage to another one. My first curated show was a group experience when I was president of the student association in Arles and we did create the exhibition WIP during les Rencontres d'Arles photo festival in 2004. It was a big challenge to arrange in a church 37 works of young international artists together coming from 17 countries... I learned a lot from that, bad points and good points. I became addict to it. Sharing the intimacy of the creation, look at the work when it is still a floating form and slowly by slowly go along with the artist to give one of the final possible form. It's fascinating: from nothing comes something.
Being a curator/photographer, you must meet lots of interesting photographers and become involved in lots of exciting projects! What has been the highlight of your career as a curator so far?
NH: I can't say there is a special highlight. My question about it those days is: how can you consider that an exhibition is a success? Answering by: the number of visitors, or the way press and critics speak about it, or the way the artists make their work progress after this experience, or how the show is included into the history and the purpose of the place where it is presented, or by the number of art pieces you did sale, or the people you met at the opening? Maybe a mix of all of those reasons. Depending of the "structure" you are working with, you don't put your expectation at the same places. Furthermore, I don't consider exhibition as an end or a consecration for the artist either for me, but I consider it more as a step. Some exhibitions can be markers, of course but each of them contain a part of the previous ones and contain already the seeds of the next ones. Maybe I can say the shows of TTY 'The Silence of The Lens' and 'Camden' of Jean Christian Bourcart at the CIPAFE Photo festival in Zhengzhou China for which I am in charge of the executive art direction. Or the exhibition 'Des Illusions' with Olivier Sola, Sara Imloul, Jeannie Abert and Lore Stessel, or also the first solo show of Ren Hang in Europe in 2011, or the actual show 'Don't Blink' with the works of Isabelle Ha Eav, Nicolas Quinette and Patrice Loubon in my gallery Le Magasin de jouets in Arles. Or the exhibition 'Time Lines' as artistic director at the Manuel Rivera-Ortiz Foundation during les Rencontres d'Arles 2016, with among others 'Fractured state' of Dominic Nahr and 'El Costo Humano' of Pablo Ernesto Piovano, important work... Of course the exhibition 'Histories' with Augustin Rebetez, Sam Taylor Wood, Pierre Liebaert, Oan Kim, Aï Estelle Barreyre, Sophie Mei Dalby and Marcel Meyer when I was art director of the festival Les Nuits Photographiques in Paris. All those exhibitions are now in my cloud, creating a network of ideas, experiences usable for my futur projects.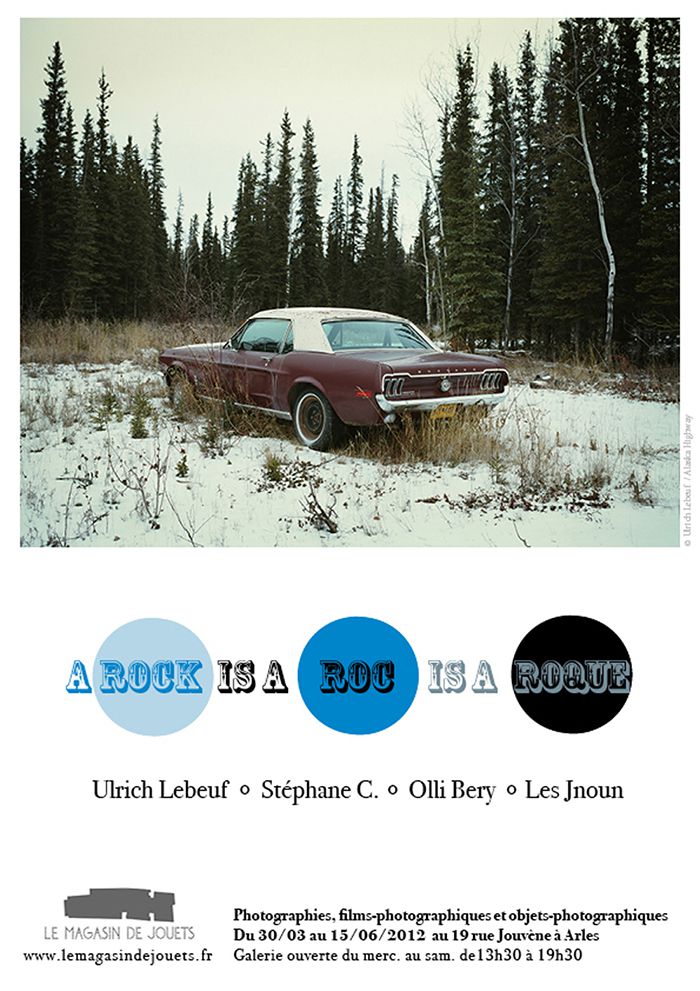 'A Rock is a Roc is a Roque', exhibition at Galerie Le Magasin De Jouets, Arles, 2012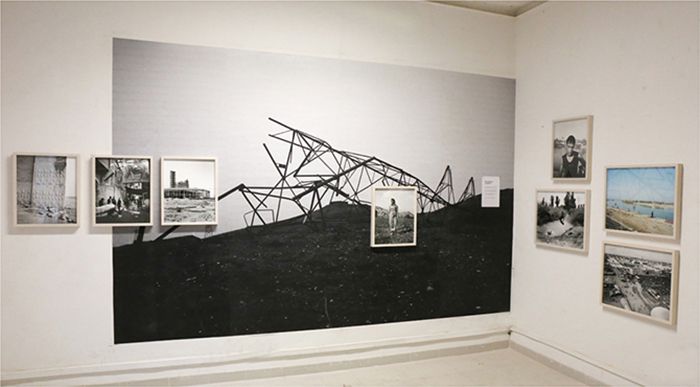 Exhibition 'Time Lines' at the Manuel Rivera-Ortiz Foundation during les Rencontres d'Arles 2016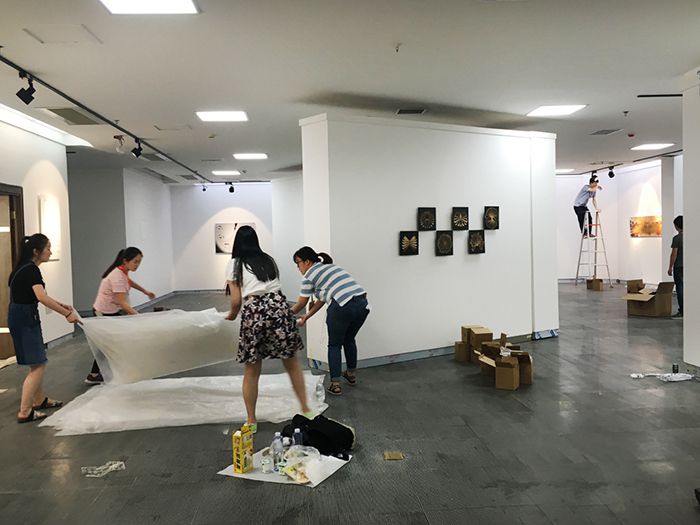 Exhibition at CIPAF China International Photography Art Festival 2016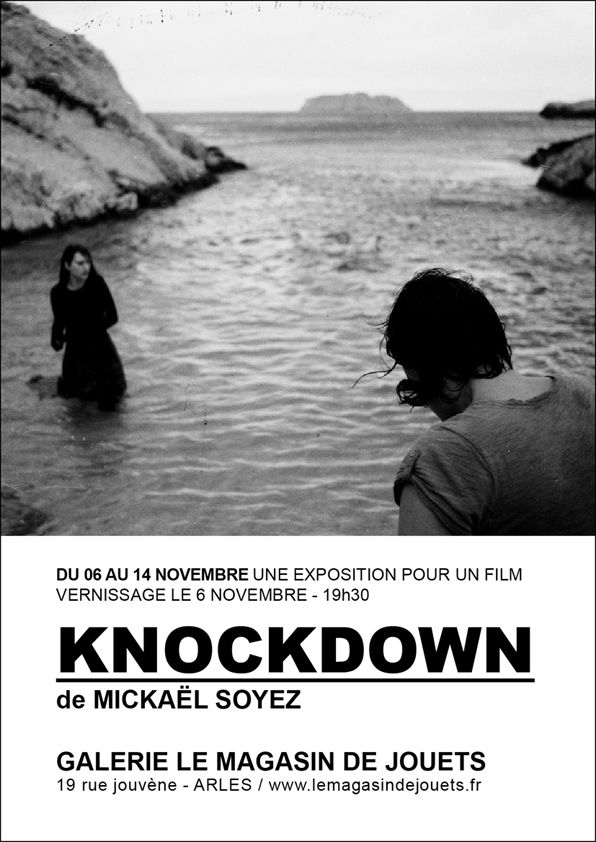 'Knockdown' by Mickaël Soyez, exhibition at Galerie Le Magasin De Jouets, Arles, 2015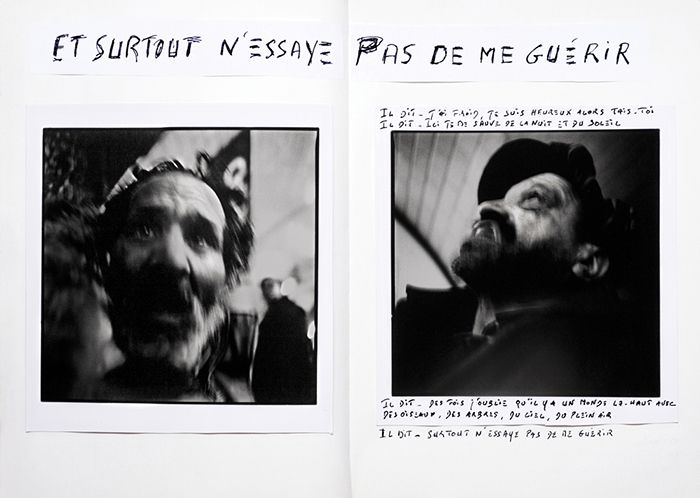 © Nicolas Quinette, 'Et sourtout n'essaye pas de me guérir', exhibition at Galerie Le Magasin De Jouets, Arles, 2016

When you curate an exhibition, how do you select the images to include?
NH: It's a real alchemy between, the artist, the weather, the space, me and the present... it's like a recipe. You have to moderate all the ingredients to create a taste that stay in your mouth a long time including a flavor which reminds you something but that you can't recognize directly. You have to hide subtle nuances for the gourmets.
Have all these years of being involved in photography, on so many levels, changed your way of seeing the world?
NH: Through photography I did meet people in many countries. Photography could have been a pretext for me to meet different way of thinking, different way of finding your place in a space, a time, a philosophy. Photography didn't push me to think the world but rather pushed me to play and dance with it.
When do you think it's important to tell the story of a photograph: the context in which it was made, the photographer's relationship to the subject and his or her perspective? Is it always important?
NH: Thanks to ask me that question, I will think about it. As quick feed back, I would say: always. At the first sight you read the image and then you have to place it back in its context: who did it, where, when, who decided to select this work, who is paying for it and who is buying it. If we could teach that in every school!
Is there any contemporary artist, photographer or writer, even if young and emerging, who influenced you in some way?
NH: Paul Graham - Arvo Part - Wolfgang Tillmanns - Gerard Richter - Fischli & Weiss - Penone - Ernest Pignon Ernest - Ren Hang - Lewis Baltz - Chris Marker Miyazaki - Peter & Schuitten - Manu Larcenet - Stromae - Jean Christian Bourcart - Lu Di - Maurizio Catelan - Reeve Schumacher - Goldin - Jamie Maxton-Graham - Nicolas Quinette - Pauline Fargue - Roger Ballen - Song Hao Ran - Mana Kikuta - Antoine Dagata - Wetkin - Jeff Wall - Yan Pei Ming - Robert Frank - Wiliam Kentridge - Zanele Mouholi - Max Pam - Alex Yudzon - Pablo Ernesto Piovano - Minzayar - Christian Caujolle - Mo Yi - Stephen Show - Pierre Liebaert - Augustin Rebetez - Jeannie Abert - Robin Lopvet - Lore Stessel - TTY - Olivier Sola - Rauschenberg - Alessandro Baricco - Feu Chatterton - Mickael Soyez... The ways they answer to the present with their own languages are all my mind.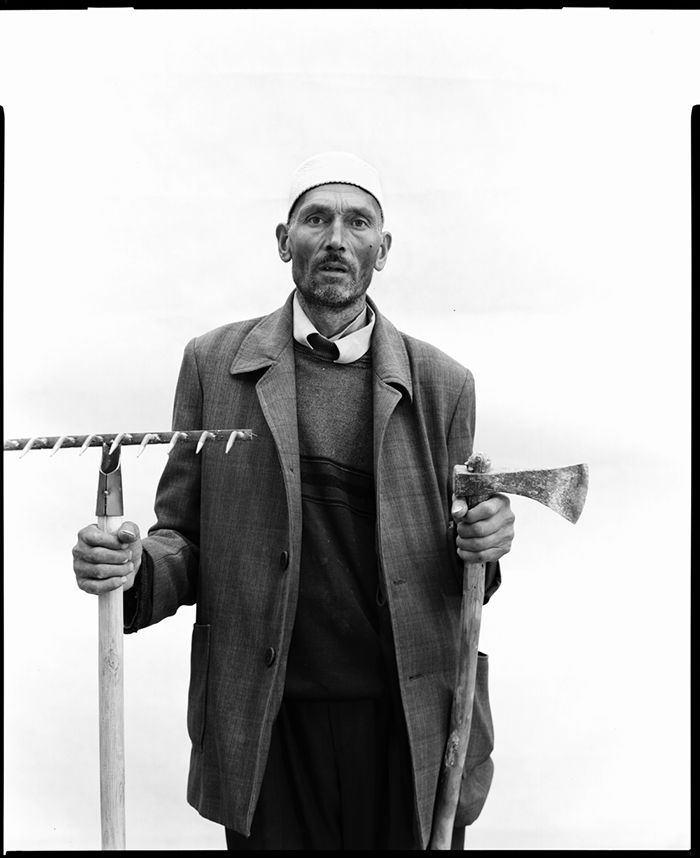 © Lu Di, 'Businessman in Bazar', courtesy Galerie Le Magasin de Jouets

Three books of photography that you recommend?
NH: 'Shimmer of possibilities' of Paul Graham. 'The essay: Beauty in Photography' from Robert Adams. 'La terre vue du ciel' from Yann Arthus Bertrand... no I'm kidding Maybe I would say artists books of Ed Rusha among others.

Is there any show you've seen recently that you find inspiring?
NH: Not really... last week I went to visit Provoke at LE BAL and 'Revolution' at galerie du Jeu de Paume... many sparkles but no wood fire! ... Oh yes two weeks ago in Photolux festival I discovered the wonderful video that Vivian Maier did. A real pleasure! And I learn a lot weekly with my students in the Paris College of Art where I teach Social Documentary Photography. Looking at how they are reacting to the world, to Paris as foreigners today,using photography to speak about. It is fascinating.
What are your plans for future projects?
NH: I am now preparing an online school which will begin in spring 2017. I will follow between 7 and 10 photographers during one year. I plan to go along with them advising with shooting - editing - text writing - production and at the end of the year we will create together an exhibition in Arles in the gallery Le Magasin de jouets. This school will be a new kind of school. I'm considering myself more as a hub to lead the participants, create links with professionals (critic, philosopher, publisher, curators, artists...)
How do you see photography evolving in the next decade, particularly in the light of new digital developments and the Internet?
Considering the global digital evolution and what it did change in the structure of the way we're thinking, I advise to read: 'The Barbarians. An essay on the Mutation of Culture' from Alessandro Baricco. About Photography specifically: that question was actually the starting point when I did create the concept of Photo-Film for the festival Les Nuits Photographiques in Paris. Professional Photography seriously has to find his place on our screens ! Books or exhibitions used to be considered as valuable way to show photography and screen always has been considered as a low rate media, maybe too... popular. We have to reduce this gap. Furthermore we have to find the business model linked with creativity. In 2010 there was no market for those creations who are go-between photo and film (it is still the case). That's why we did create the festival Les Nuits Photographiques with Guillaume Chamahian and Aurélie Le Gall, to present the energy of this new generation of photographer creating video including the photography and its way of thinking... But not one did react to follow the stream: ministry - TV Chanel - collectors - Cinema - others festivals... whereas the audience was there, we had some outdoor screening with more than 1.500 people... Maybe it is what thinker can call today the "post truth": media and institutions are not playing the role they have to do. They are working to defend an old territory whose borders don't exist anymore...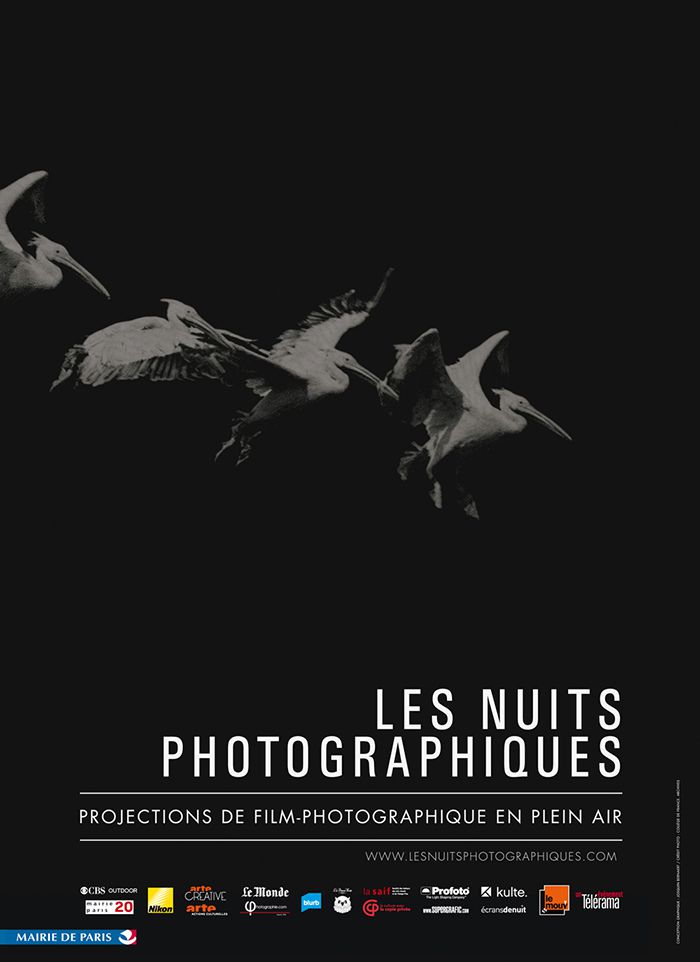 ---

LINKS
Nicolas Havette
Galerie Le Magasin De Jouets
urbanautica France