NATHALIE BLANC. FORM, ART AND THE ENVIRONMENT

©Ivan Kafka, Forest carpet for accidental mushroom VI, Prague, 1986

Could you briefly describe your career? How did you get involved in the environmental aesthetics and environmental art sphere?
Nathalie Blanc (NB): At first, I was doing fine arts in Paris, focusing my art practice on the litter and garbage. In the 80's I was working at Christian Boltanski's workshop, who already was a well-known artist. Around that time I realized that the art students and artists were not very politically involved, rather self-centered, but still interesting formally. I was coming from a Communist family, partially from Russia, Romania, and Ukraine, a lot of my relatives were very politically involved. For me, it was strange to be disconnected from what is going on in the world. I had to find a topic of investigation or research-creation, which would become the theme of my life, that would lead me to the heart of things.
At that time (around 1982) I was making art, focusing on the problem of garbage, organizing gallery exhibitions near Bastille, in collaboration with some colleagues and artists from the Czech Republic. We were doing a cultural exchange program for artists, artist residences, and shows. We even had an exhibition at the Vyshehrad Castle in Prague. After making many garbage and litter oriented exhibitions at the gallery in Paris, I decided that it would be good to have a more science-oriented life. I felt that science gives you a possibility to get to the core of things, especially with the environmental studies, I became aware that the next big topic of the new century will be the environment, that it will be the main issue of the future social and political debates. So I combined these two interests of mine and started working on cockroaches. Nobody wanted to work with the roaches dynamics in the cities theme back then. They were like garbage, much related to the environmental issue in the life of the lower social classes.
I worked together with an ecologist, who studied the dynamics of cockroaches and examined their genetics, while I was studying the representation of social practices in different urban neighborhoods. I was going from one flat to another, interviewing people, always getting the response - about them hating cockroaches, but, in fact, depending on the culture they belonged to, they didn't exterminate them, having them sprawling around all over the place. This project took me from the esthetic science to the urban environmental studies. After some years I started to miss being involved in the art scene. I didn't know about the existence of the environmental aesthetics until I discovered people like Armold Berleant and Emily Brady, I became very interested in their work and earned funds to lead my research in this sphere and ended up writing a book, that explores the idea of "what does it mean for an artist to be engaged in the environmental field".
Going from being a scientist to writing poetry, I used to think that art and science were very separated. My opinion changed after years of practicing artistic and scientific research. Of course, their creation methods are very different, but there are lots of similarities, the artists, as much as the scientists, have to do the field work, they are studying places, concepts, and situations. They also have to reflect on the world and find ways to represent,their findings and vision (either rationally for scientists, or emotionally for the artists). Both these results might vary depending on many conditions.



© Ivan Kafka, For private maxi-use III, Prague, 1979

What are the main themes you talk about in your poetry, and what is your primary source of inspiration?
NB: I consider the poet Ezra Pound one of my major influences. Quite often, my poetry takes on a form of a very daily epic. It deals with nostalgia, the way time goes by, touches on the idea of meeting and losing people. It is about the constant movement of life, how we live and deal with whatever comes our way. My poetry is very subjective and self-oriented, in the way that I would try to make people feel that these words come to their ways like a bird or a stranger on the street.
«I was naked as the earthworm, defenseless. The topsoil which, in most cases, covered me, a true monument of greater antiquity, was absent on that day because I was propelled into space. I was naked, defenseless, in the light of day, but still blind. I'm not an animal of great depths, me. I'm not a paranoid animal refusing the light. I wish I could hide forever and sub-specie, but the power to do so was taken away from me; I am the worm wandering in space, with an uncertain future. I most certainly looks like a write line, a broken piece.» Naked as the She-Worm, Nathalie Blanc
Tell us about some of the performance art examples from your art practice?
NB: I'm trying to do very fugitive performances, not very outstanding to be remembered pieces. My goal is to be most unremarked, in the way I do things. Just making slight changes in the reality. For example, one of the pieces I did in 2014, I interviewed many people in the neighborhood, and composed poetry base on what they said, and recorded it on the 5 meters long roll, which I would declaim later, moving through the crowd in a rush-hour. I wasn't trying to get everyone to hear me or even pay attention to what I am saying. The point was to get random people to overhear some parts of this poem. My message would stay in the back of their minds. That's what I call fugitive performance. Also throwing poetry in the streets, written on crumpled papers. Or sometimes using nicer paper and throwing it on the floor at some establishment. These pieces are not obvious, just like garbage. Sometimes someone would pick it up and read a random message. I like the idea of small injections of art in the daily life of strangers.
Could you please tell us about your educational path and how your research evolved since then?
NB: I left my family at the age of 14, moving to the United States, to finish the high school there. Years later I came back to France, received a degree in Urban Geography as well as in Fine Arts, at the same time I was working at the art gallery. After I became a graphic designer at Jean-Charles Wilmotte, interior designer, and Jean Nouvel, architect, not for a very long time. I even used to work for a truck company, drawing animals on the containers. I did many things, and after a while, I decided to pursue a career in science. In less than two years I got integrated into the National State Agency of Research (CNRS), which was incredible and exciting because this is a very prestigious establishment. Metaphorically speaking, I got there on the back of a cockroach. Later it became a theme of my Ph.D. research - "Nature in the city (La nature dans la cité)," and concerned the role of animals in cities, especially stray cats and cockroaches. For some reason, not so many people wanted to do a research based on this topic back then. I was lucky to find my niche.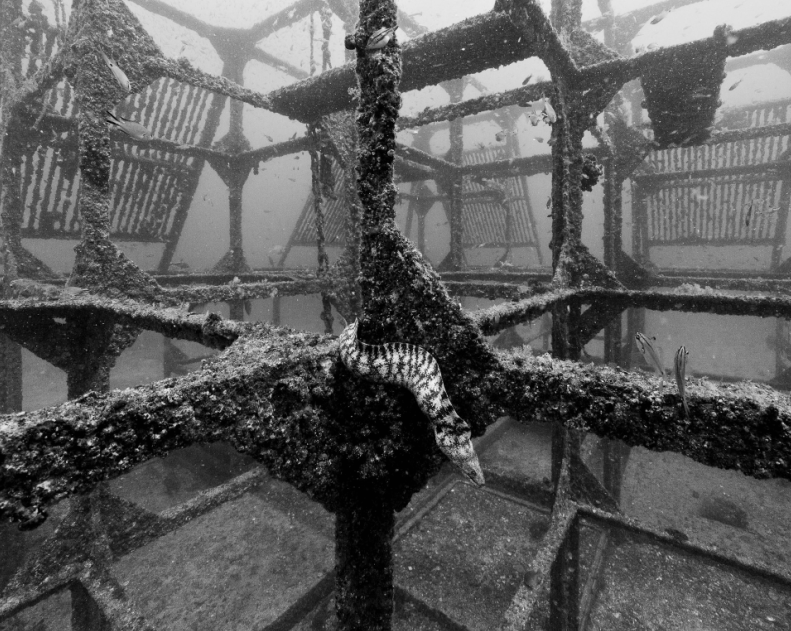 © Nicholas Floch, Structure productive, Récif artificiel, -24m, Japan, 2013

Let's talk about your recent book Form, Art, and the Environment. What is your expected audience?
NB: Form, Art, and the Environment: engaging in sustainability (Routledge) is the first book I ever wrote directly in English. Thanks to my co-writer, Barbara Benish, it was a rather easy-going process. This book concerns the kind of forms the environmental artists propose, versus the forms, the scientists do not create. The artists do not envision the relationship to the environmental concern or urban environment in the same way than scientists. I think that the environmental art shifted art in general from being just a representation of the world to being the actual presentation of it. Environmental artists intervene directly in this world and making the changes. For me, this is a revolution regarding the art practice. I would say it's a political revolution, and if you go back to the French philosopher Jacques Rancière The Politics of Aesthetics, I think that environmental artists are mainly dealing with something that you could call the political regime of art, not the aesthetic regime of art anymore.
I hope this book will attract not only academics but also people interested in art. This book contains about 80 artists, whose art practice, deals with the environmental issues.
How did you meet your co-author Barbara Benish?
NB: We met at the conference in Skopje, Macedonia and instantly thought that we could get along. Almost felt like we knew each other for a long time. It wasn't easy to start a collaboration project together because I am based in Paris, and Barbara is based in Santa Cruz, but we managed to succeed. We have been working on it for three years.

What was the criterion for choosing the artists for your book?
NB: I work with The Coalition for art and sustainable development (COAL), an organization that has been promoting environmental art for more than ten years now. I took part in establishing this organization and every year I participate in the jury. The number of works, submitted for the prize, consists of more than 500 projects, so we ended up picking out about 80 projects by 80 different artists to be a part of our book. We focused on the committed artists, who had a long history of working on this issue. Artists who collaborated with various civil society organizations, worked focusing on the economic cycle, or the living species, etc., our selection is rather balanced.
What is your advice to the artists, who want to submit their work to the COAL Prize?
NB: Their pieces must be thought through, and contain a very precise and well-articulated argument, not just three lines on paper. We receive all kind of works; it could be anything, visual art, poetry, installation art... It is also important to think of the presentation of your work, to explain, how would you integrate it in the world. We have candidates from all over the world every year, so the competition is intense.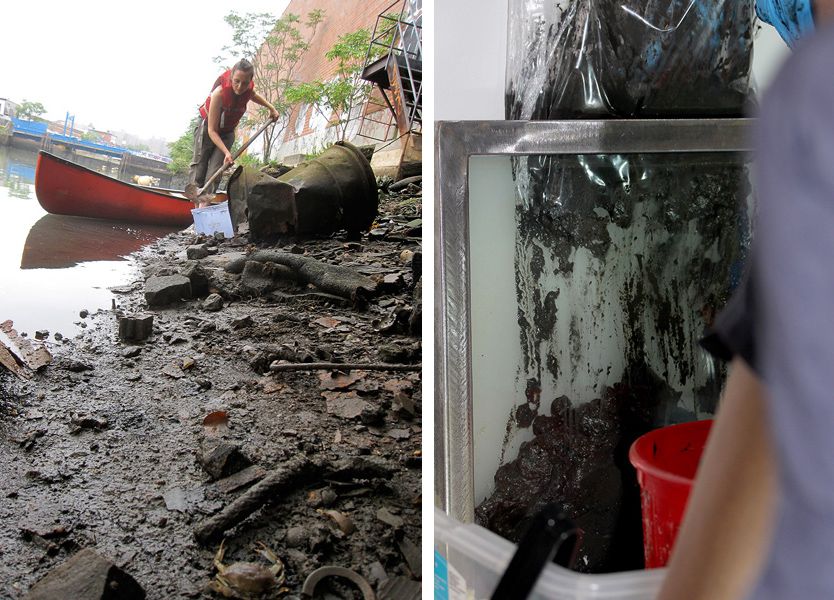 © Jenifer Wightman, 'Portraits of NYC', Collecting and installing mud in steel and glass frames, 2013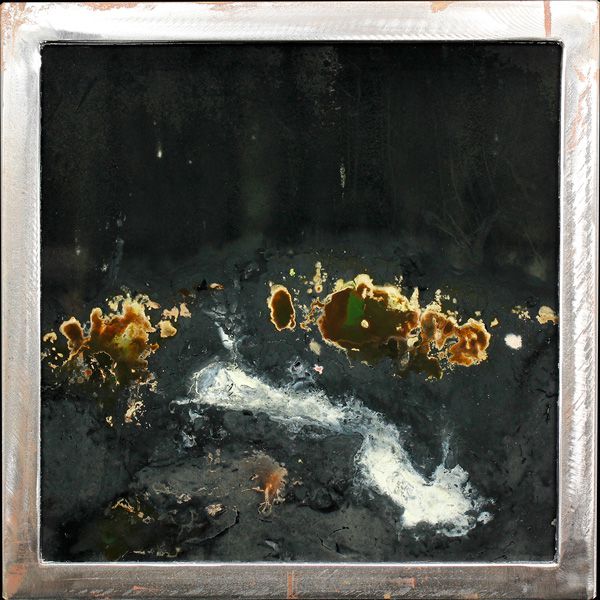 © Jenifer Wightman, 'Portraits of NYC', 2013

Do you see any progress in the way the environmental issues awareness spreads among the general public? Maybe in relation to France, since you are mainly based there?
NB: For the past ten years, the values of French people have changed massively. For example, it is the case of their understanding of food, which is a big deal here. Nowadays you see people, claiming that they are vegetarian, which was very rare before. France is very late on vegetarianism comparing to Germany or the US. There are many more vegetarian restaurants in France today. However, the tradition of eating meat is still very strong. I think that one of the biggest factors, that affects the general public's idea of meat consumption, is the availability of information on-line, all the videos on YouTube, showing the horrific conditions, in which the cattle is being provided for being slaughtered. This information wasn't available decades ago. It is a matter of big public debate, in France. Unfortunately, there are still lots of people, who think that the ecologists are troublemakers, who are making things up. Although France is very up to date regarding waste recycling. Of course, we can't compare the progress of public awareness with Germany or Japan. The environmental protection in a country is never black and white, it is mostly a gray area. But I think we are lucky that the state is doing a good job in this area, and it could've been worse.
As a person, who travels a lot, what is your insight on the state of the environment from the global point of view?
NB: Unfortunately, I am not very optimistic. We are on the threshold. The question is what will be the tipping point : will it be the climate, the 6th extinction of species, the acidity of the sea ? We know that these are rapidly evolving, but we don't know what will be the ultimate drop that will cause us over the threshold towards a catastrophe, meaning a radical rupture in our way of living. The climate change is happening, but we do not talk enough about it. The state of the environment is on the edge.
Three books on the art, environment or poetry you would recommend to our readers?
NB: 'The Poems of Emily Dickinson', presented by R. W. Franklin, Cambridge: Belknap Press, 1999. 'Art in the Anthropocene: Encounters Among Aesthetics, Politics, Environments and Epistemologies' edited by Heather Davis and Etienne Turpin, Open Humanities Press. 'Estetica. Teoria della formatività', Edizioni di Filosofia, Torino, 1954; 3rd edition: Sansoni, Firenze, 1974;

---

LINKS
Nathalie Blanc
You can read about the artists from this article in the book Form, Art and Environment by Nathalie Blanc and Barbara Benish. To see more of their works, please follow the links below:
Ivan Kafka
Nicholas Floch
Jenifer Wightman