RUBI LEBOVITCH. HOME SWEET HOME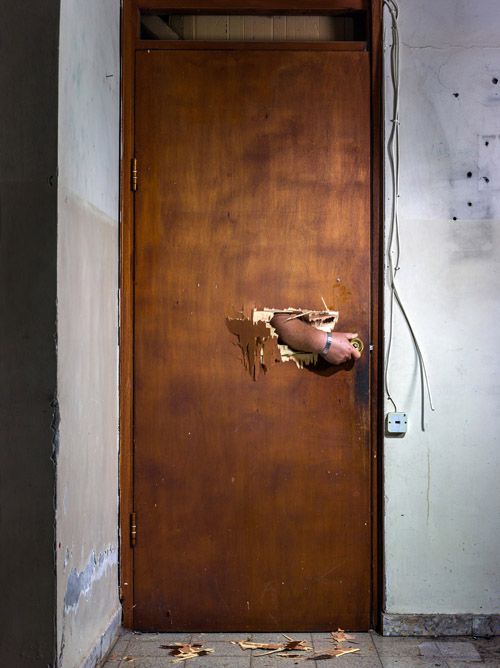 © Rubi Lebovitch, 'Door', 2016

Tell us about your approach to photography. How it all started and what are your memories of your first shots?
Rubi Lebovitch (RL): At the age of 16, shortly after I started studying art in high school, I flew with my dad on a trip to the former Soviet Union. One day when we were traveling in Moscow, we reached a place that turned out to be a kind of a black market. It was where I bought my first SLR film camera, an old Russian Zenith. After I graduated from high school I already knew that I wanted to be a professional photographer, so I began studying photography in university. I wanted to focus on fashion photography, even though it was a difficult choice in an institute that focused on art. After my second year in university, influenced Wolfgang Tillmans, whose work I saw in London, I began combining fashion with art. Shortly after, I started focusing solely on art and the fashion idea was abandoned.
How did your research evolve with respect to those early days?
RL: I get my ideas from the simplest everyday objects at home and on the street. There are so many weird and funny things that people do, collect or leave behind them that you can get inspired by. People's oddities are the most interesting and inspiring things for me. Although nowadays my work is different than the street photography I used to do seven years ago, I still get inspired by the things I see on the streets. Many times weird scenes I spot on the street become the inspiration for my photos and I transform the outdoor scene into an indoor scene.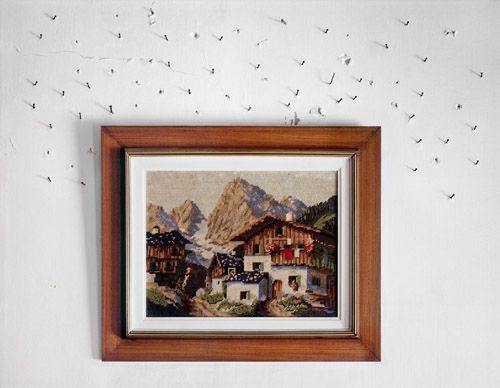 © Rubi Lebovitch, 'Gobelin', 2015

Tell us about your educational path at Bezalel Academy of Art and Design. What are your best memories of your studies? What was your relationship with photography at that time?
RL: I studied photography at Bezalel Academy of Art and Design, and I have many great memories from those days, and especially thanks to some friends who studied with me. I treated my days as a student as a period in which you can go wild and experience all aspects of photography and employ different techniques. I think the biggest advantage we have in college is the opportunity to defer the decision regarding which route to take and instead experiment as many routes as possible.
What were the courses you were passionate about and have remained meaningful to you? Any professor or teacher that has allowed you to better understand your work?
RL: I have always preferred the courses that required me to work outside in the open air. I preferred working outside with natural light and spontaneous subjects or decisive moments to working with artificial light and staged subjects in the studio. It's ironic that nowadays, twenty years later, I do the exact opposite.
Igal Shem-Tov, who was one of my teachers, had the biggest influence on me at the time when I was a student. I think that the most precious thing he taught me was how to find beauty in the simple and banal things in life.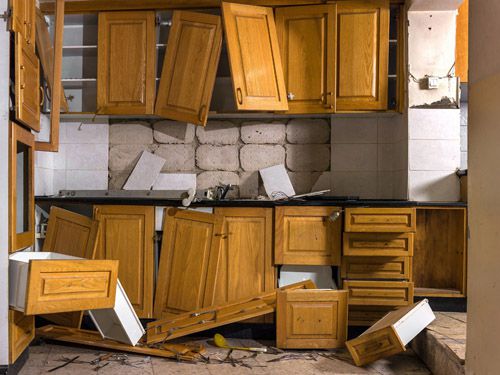 © Rubi Lebovitch, 'Kitchen', 2016
What do you think about photography in an era of digital and social networking?
RL: On the one hand, digital photography has turned each one of us into a photographer, and almost everyone carry a camera on their cell phone. But on the other hand, the professional photography reached a much higher level than before, and it enables better technical options and better accuracy. Personally I can say that social media helped me a lot with marketing my work and in reaching new audience, curators and gallerists that I could not get to before. It also helps me a lot to keep in touch with friends and colleagues who live abroad.
Do you have any preferences in terms of camera and format?
RL: For many years I used a 4x5 large format camera with slides, but four years ago I started working with a medium format digital camera.
Tell us about your recent book 'Home Sweet Home'. What made you choose this topic and why did you decide to publish this specific body of work in a book.
RL: My 'Home Sweet Home' project is a series of photos of domestic scenes gone wrong. They can go wrong in many ways: they can seem absurd or twisted, arouse fear, or even horror. They show everyday household objects or activities in ways that reveal their senselessness and their uselessness. My work is connected to Freud's concept of the "Uncanny," which locates horror in the familiar and the safe. The familiar loses its sense of safety usually associated with home, and becomes a source for fear or confusion. The idea for the project began from a very normal and banal action of hanging a picture. When I tried to hammer a nail into the wall, the nail bent and a hole was created, so I had to hang the picture a little bit off the original spot, in order to cover the hole. It made me think about the simple things we do at home almost every day that are a bit odd. I began collecting and documenting all those weird habits, while elaborating on them and making them more and more exaggerated and extreme. Last year Michael Itkof from Daylight Books offered to publish my 'Home Sweet Home' project in a book. I have been working on the project for several years, and at that point I felt that it was ready for publishing. I was very happy with the offer because it enabled me to expose my work to a bigger audience.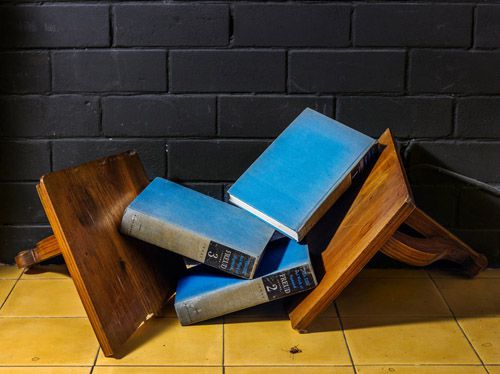 © Rubi Lebovitch, 'Shelf', 2015

Is there any contemporary artist or photographer, even if young and emerging, that influenced you in some way?
RL: There are many wonderful artists and photographers that I love. I especially like conceptual artists who use the medium of photography, and whose work is characterized by a clever sense of humor. Two artists who immediately come to mind are Gabriel Orozco and Erwin Wurm.
Can you recommend us on three photography books?
RL: 'A Storybook Life' by Philipp-Lorca di Corcia, 'Sleeping by the Mississippi' by Alec Soth and 'Pleasures and terrors of Domestic Comfort' by Peter Galassi.
Is there any show you've seen recently that you find inspiring?
RL: One of the shows that I liked lately was Robert Gober's 'The Heart Is Not a Metaphor' at the MOMA.
Projects that you are working on now and plans for the future?
RL: Since I have just published my 'Home Sweet Home' series, I'm still processing a lot of new ideas and I'm trying out a few new directions. It is too early to say but I think I will continue working on domestic themes using my personal objects.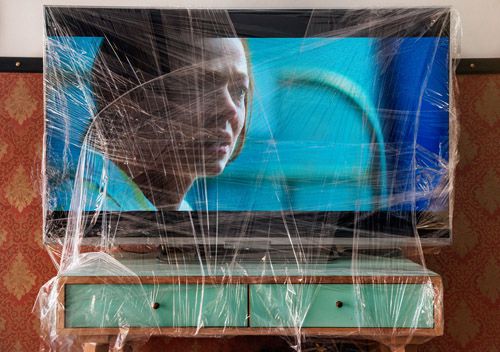 © Rubi Lebovitch, 'TV', 2015

What advice would you give to a photography student who has just graduated and is eager to show his work to the world?
RL: I would suggest building a strong, cohesive portfolio with 15-20 strong images, and attending some portfolio reviews. There are various reviews in Europe and in the U.S, and they are a great opportunity to meet gallerists, curators and other emerging photographers, and to discuss your work with them. It is a very good way to make new contacts and to learn how to improve your work.

---

LINKS
Rubi Lebovitch
Israel