MARINA REINA. INSTINCT TO LEARN

© Marina Reina, Keur Abdou, 2015
Tell us about your approach to photography. How it all started? What are your memories of your first shots?
Marina Reina (MR): I've always had the instinct to learn, to get closer to other realities and to transmit them to others. In the 4th year of my previous studies, I bought a camera with my savings. I made horrible pictures of flowers, clouds and my feet up against the sky; This interest remained until years later when I discovered photography in all its greatness. I then understood what photography really meant and the work and dedication it required. From that moment, I decided that I wanted to tell stories, that I wanted to approach people and understand the world through my camera. I also came to understand, it would not be easy.
How did you evolve as a photographer with respect to those early days?
MR: I have learned to watch with more calm, to give myself the time to get to know the people, of soaking in every moment, to always keep shooting and to leave my fears behind in order to avoid the typical "I'll come back tomorrow". I realised that photography enriches me as a person. I used to dream of changing the world, now I work mainly for myself, but I'm still hoping that small changes will occur, at least in my direct environment.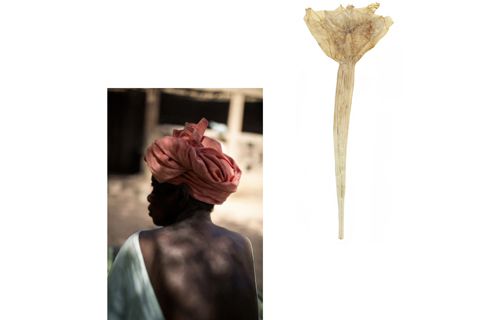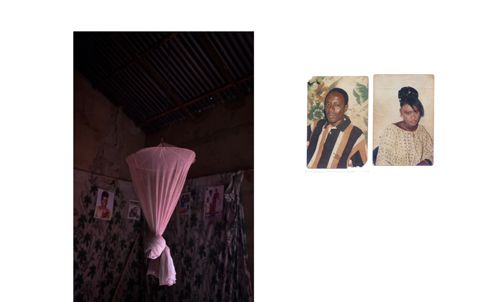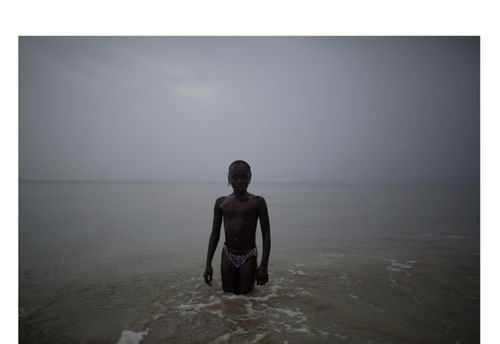 © Marina Reina, Keur Abdou, 2015

About your work now. When we've met in March, you've showed some material of your current project. It was a collection of photographs shot in Africa of a group of people and their surroundings which you refered to as a second family. In every single photograph I could feel a great sense of proximity and familiarity but also a touch of melancholy. 
Tell us about your first project 'TOUKI BITIM RÉW' and how (or if) it shaped your bond with Africa, its people and its culture.
MR: 'Touki Bitim Réw' was my first photographic project. I had been a volunteer at Red Cross for a few months with the frustrated desire to attend the immigrants arriving in small boats. I live in front of the sea and since I was a child I wondered what life would be like on the other shore. I always had questions and doubts about those people who risked everything and put their fate in shabby boats in order to reach Europe. When I came to Madrid to study the Master of Photography at EFTI, I decided that my project would be centered around this topic, and that I would finally discover the stories myself.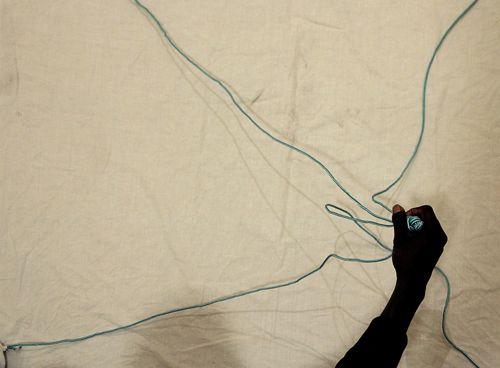 © Marina Reina, from the series Touki Bitim Rew, 2010
My relationship with the people I photograph is always very close and intense. Throughout the year 2010, when I was in Madrid, I lived with different groups of Senegalese boys, most of them illegal immigrants. I spent many hours in their houses, shared lunch, had dinner, accompanied them to fix paperwork and residences, I visited them at the CIE ... it was a year full of experiences. When I reflect on the project I now recognize the errors, but also the passion and desire I worked with all year. The sum of all those experiences helped me to learn a lot about photography and to get closer to the world I adored and wished to know better: Africa. The photographs that I shared in March during the "bookmaking" workshop with Juan Valbuena (of Phree editorial in Madrid), were made in Keur Abdou, a small town located in the region of Diourbel (Senegal). I traveled there accompanied by Mor Lo, one of the guys I met when I was working on the 'Touki Bitim Réw' project. Mor has been a unique and special person to me with whom I got to know the ins and outs of Senegalese culture and life. He is the person who has given me the clues to understand life from both sides of the sea. Photographing his village, his return, his family ... to feel welcome in such a remote place, gave me a feeling of fragility, love and beauty. It is a very personal project and I feel it is still in process.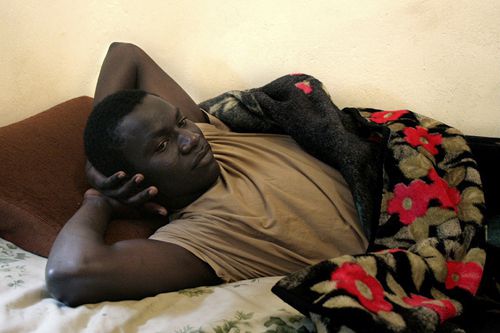 © Marina Reina, form the series Touki Bitim Rew, Massaer Syll, 2010
Your photography is strongly intertwined with the values you cherish and the kind of life you strive for. You put a lot of effort in establishing meaningful relationships with your subjects. When you are developing projects far from home you regain proximity by establishing personal connections. 
How is your relationship with the people that appear in your photographs? How do you present yourself and what is your role as a photographer?
MR: My approach to people is always the same. Very close, very sincere, very direct, putting myself in the place of others. My relationship is intense and strong, in some cases it extends beyond the photographic act and happens to last over time. I usually photograph that what generates doubts and what intrigues me or seems unfair. I try to be honest and to expose my inner being everything I can in order to feel the people that I have in front, to understand their lives, their fears, their culture. I like to see things from a positive and beautiful perspective, I seek a new point of view through my own experience.
Besides your own work as a photographer you also coordinated the traveling exhibition 'Invisible borders project' in Spain and you write a blog dedicated to African art, the (sometimes problematic) contrast between the european and the african gaze and your thoughts -and even doubts- concerning your practice. Currently you are also working on the project 'distrito 5' that came into being as a project for social enhancement of this specific district in Malaga. 
What do you hope to achieve with this initiatives and how can photography help you in that? 

MR: The driving force that gave birth to 'Invisible Borders Project' made me fall in love right away; A group of African artists traveling the world defending a personal view of reality and redefining the technical, economical and historical difficulties in the art world and in their own lives. In recent years there has been a boom on Africa and there are many artists and professionals on both sides of the sea working to establish bridges. However, there are still many people who have a very skewed idea of ​​what is Africa and Africans. I started writing on the blog "Africa" ​​as a personal notebook where I shared things I liked, like photographers, musicians, African writers or works that speak of the issue from a perspective that seemed interesting. I am still working on it gradually, without any other intention than to collect and share what I like.
I am currently working on the Project 'Distrito 5', which came into being after having returned to Malaga. Once again, there were many unanswered questions. The only thing I had heard, was that it was a troubled neighbourhood. I wanted to find out first hand and create a new point of view in respect to the prevailing opinion. Photography serves me to document and to tell others about what is going on; in the neighborhood I used it as a tool for personal empowerment, it helps me to give value to the views and opinions of the young people who take part in the workshop, to improve their self-esteem and to give them a unique and personal space to express themselves and to be noticed. Palma-Palmilla has never had a good reputation, in the municipal archives of the city not even one picture can be found. It has been a forgotten piece of land, despite of its wealth and multiculturalism which could be an example of coexistence and survival. My impulse is to create a new way of looking at this district, one that goes beyond social exclusion, drugs and marginalization. All of them issues that have pinned down the perception of Distrito 5.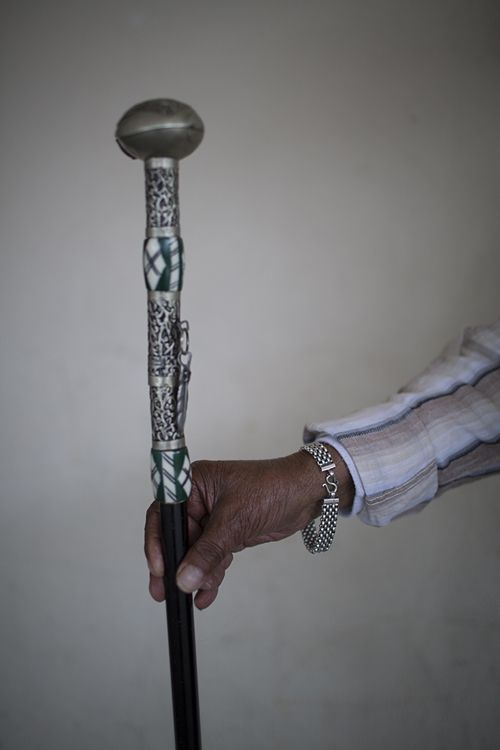 © Marina Reina, Bastón patriarca gitano, Distrito 5 Palma Palmilla, 2016

Is there any contemporary artist or photographer, even if young and emerging, who influenced you in some way?
MR: Gordon Parks, Atin Aya, Vanesa Whinship, Vincent Delbrouck or Grégoire Pujade-Lauraine.
What project(s) are you working on now and what are your plans for the future?
MR: Right now I'm working 100% on the Palma Palmilla Project. I'm also reviewing pictures of my trips to Africa with the idea in mind of creating a small book, like a kind of travelogue. I'm working on some ideas related to immigration, Africa-Spain, … but they are still premature. Now I want to focus on Distrito 5 and enjoy it to the fullest.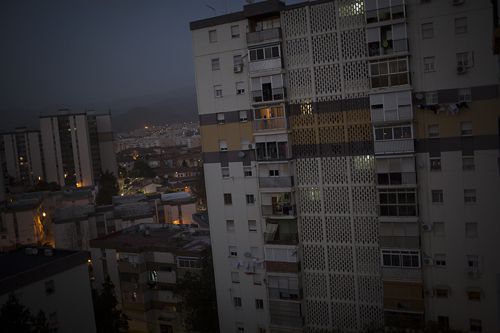 © Marina Reina, Vista desde La Palma, Distrito 5 Palma Palmilla, 2016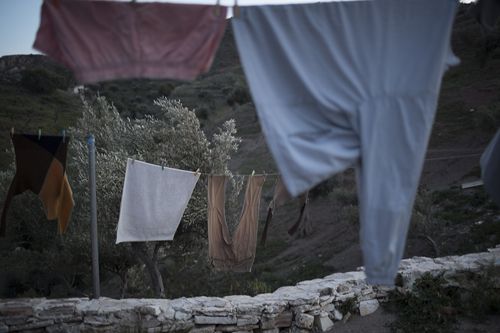 © Marina Reina, Taller de fotografía, Distrito 5 Palma Palmilla, 2016

What do you think about photography in the era of digital and social networking?
MR: I think it's a great window to the world that connects us all in an extraordinary way, something which used to be more difficult only a few years ago. It gives us the opportunity to see and learn daily allthough it can also leave you saturated. The apparent "need" to show, to be present and to share can be stressful sometimes. On some occasions I prefer to disconnect and dedicate myself to photographing, drawing, writing ... I'm not worried by the immediacy of things, I prefer to take the time to feel what I do. All the rest, will eventually come. We can not force things. A personal discourse and point of view needs it time. Mine are in process, I'm not in a hurry.
Three books (of photography) that you recommend?
MR: 'Ponte City' by Mikhael Subotzky and Patrick Waterhouse, 'My grandma was a turtle' by Cuny Jassen and 'Open See' by Jim Goldberg.
Is there any show you've seen recently that you find inspiring?
MR: I recently saw an exhibition of Sergio Larrain in Granada, I was inspired by the fact that I could see it so close to home, and it reminded me that no matter where we are, when creating and telling stories it is enough to just want it in order to achieve it. His photographs, texts and drawings are pure poetry of life that reminds me of what is truly important.

---

LINKS
Marina Reina
Spain