RODRIGO ORRANTIA. A WORLD EXISTED BEFORE YOU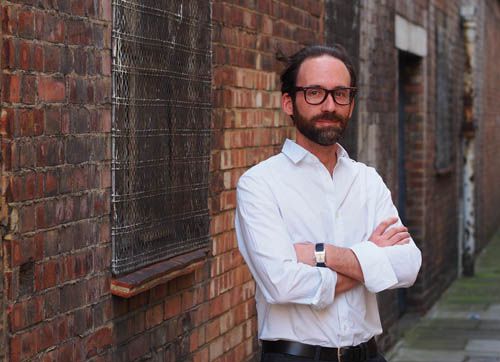 Tell us about your approach to photography. How it all started?
Rodrigo Orrantia (RO): I've had a close relationship with photography since I can remember. My aunt is a photographer and I remember learning the basics from her when I was very young. My father had (I own it now) a Canon AE. I borrowed it and started shooting my first rolls of film, I'd then spend long nights in my aunt's darkroom making prints. I loved those years.
How did you first get into curating exhibitions?
RO: During my time in university I realised I was more excited about looking and writing about photography than actually making images. My love for photography met a newly found love for history, that lead to a first MA degree in Art History and a second one in Historical and Contemporary Photography, which brought me to London. I was obsessed by 19th Century European photographers and adventurers, and their travels to South America and around the globe. Researching and writing about historical photography, I naturally gravitated into curating exhibitions and publications. My first exhibition as curator was about photography and travel. That was about ten years ago. My father ran a small museum and I had learnt the basics of exhibitions from him. So things gradually fell into place. I found my way by being resourceful and always coming back to the love for photography and film.
Being a curator, you must meet lots of interesting photographers and become involved in lots of exciting projects! What has been the highlight of your career as a curator so far?
RO: In 2013 I worked on a national touring show with Multistory and Magnum Photos for eight major museums in the UK entitled Open For Business. I was involved in the project from the start, from the initial commissions, through to the editing, production and final installation of the show during its 2-year tour. I had the privilege of working side by side with many amazing Magnum photographers, but also learn a lot by working closely with printers, framers and install crews all over the country. I loved the excitement of the opening nights, getting the show ready for the public, here is a short video of the installation at the Media Museum in Bradford.

Open For Business: Installation at NMM Bradford
Another highlight was working with Sir Benjamin Stone's original images of his voyage to Brazil in 1893. Pete James -a good friend and mentor- was the head at the Stone archive in Birmingham. He invited me to come up for a day, and had a room full of archive boxes for me. He left me to open them on my own, 'just call if you need me'. As I opened box after box of Stone's images of the eclipse sighting in Brazil, I felt like my heart was going to jump out of my chest. It was one of the most exciting days of my life. We went on to curate a beautiful show together; I am very fond of it. (Here is a link to the site).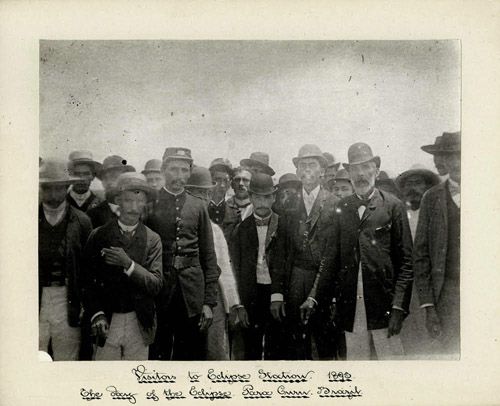 © Sir Benjamin Stone, Visitors to Eclipse Station 1893

When you curate an exhibition, how do you select the images to include?
RO: If possible, I'd rather work with artists from an initial idea. The idea and the narrative are always the main compass; they will tell you if you are going in the right direction. The images are the building blocks of a visual narrative, just like words and sentences are for poems, novels and essays. I also like projects to come out of dialogues with artists, I feel more excited to work in collaboration with other people. I try and fight against the idea of the curator as artist; I think that's very pretentious.
Curators also have to take into account a number of restraints. The size of the exhibition space, the budget, and for group projects the number of artists in the show. Selecting works cannot always respond to the narrative, it is also a very technical operation, a compromise with the reality of public space, galleries and museums, their budgets and expectations.
Have all these years of being involved in photography, on so many levels, changed your way of seeing the world?
RO: Very much. It has made me see the world beyond our limited time on this planet. I always tell photographers that they are not working for themselves, or for anyone we know. 100, 200 or even 500 years from now someone is going to find these images –as books or prints I hope, but even in some old out-dated hard drive- and be as excited as I can get looking at images taken more than 100 years ago. We are part of a something bigger than us, and each image we take is literally history in the making. That really changed the way I see the world.
Photography makes you realise a world existed before you, and at the same time gets you thinking of how and what are you going to show the audiences of the future. I have always been fascinated by people in historical images and the way they stare at us from the past. I guess it's the closest we can get to time travel.
When do you think it's important to tell the story of a photograph: the context in which it was made, the photographer's relationship to the subject and his or her perspective? Is it always important?
RO: One of the things I love the most about photography is the fact you can never place it in a box. It will always jump out. I love the sheer enjoyment of the photographic image, the allure of its muteness and mystery. But I also realise the potential that photography can have when combined with text. This essential combination is very powerful, be it to convey a personal story, a political message, or even a commercial tagline.
For certain images context is everything. For others it's the lack of context that makes them mesmerising. I think this is one of the conundrums at the heart of photography. Hopefully a good image will work well in both situations.
Tell us about the book you are launching at Arles 2016
RO: For the last few years I've been thinking about how contemporary practices engage with history. There is a pub I used to go to a lot, The Champion, in central London. It was clad with images of historical champions and their amazing feats, and that got me thinking about all the unsung champions, hidden away in a family album or a drawer of a public archive somewhere. And so the story of Champion Photobooks started as an opportunity for contemporary artists and photographers to open a dialogue with history, by finding a champion and telling his or her story through newly made work.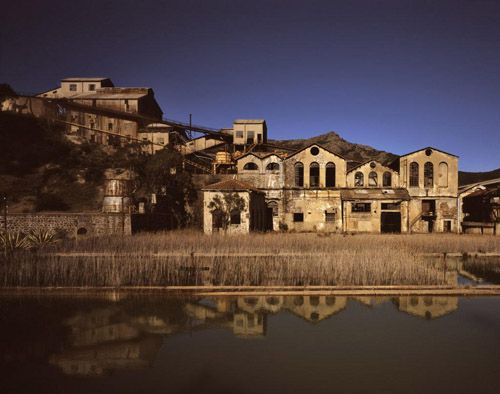 © Danilo Murru, from What Remains, Champion Photobook V.1, 2016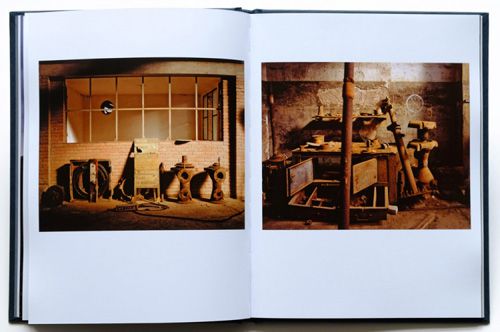 We have just finished the first book. It is entitled What Remains, by Danilo Murru. It's the story of his grandfather, a miner in Sardinia during the Fascist Regime of the 1930's. I was very moved when I saw Danilo's images; he'd been going back to the mines for years, tracing the story of his nonno, but also the villages and their relationship with the island. We started working on a first dummy of the book when I met brothers Gianluca and Gianmarco Gamberini from L'Artiere Edizioni at their small bookshop at Arles' Rencontres Festival. I told them the idea of the project, and nearly a year later found myself with Danilo in Bologna, printing the book with them and their father -one of the best printers in Italy- Gianni Gamberini.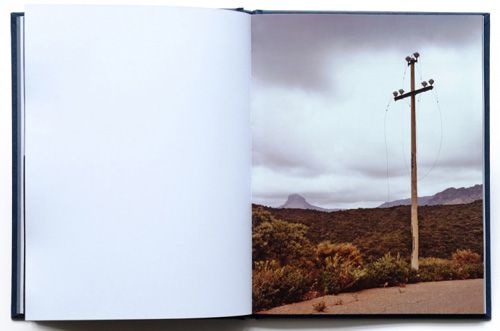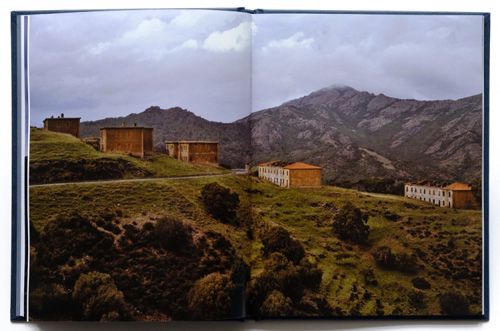 © Danilo Murru, stills of the book 'What Remains', Champion Photobook V.1, L'Artiere, 2016

We are set to produce one book every year, each time working with a photographer from a different country. I am very excited with the launch in Arles this year, very proud of this first volume. If you are coming to the festival, please come by the bookshop!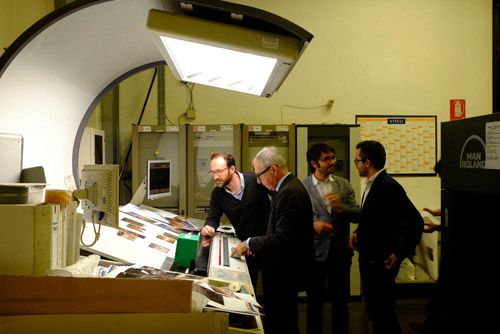 Rodrigo Orrantia at Grafiche dell'Artiere printing the book by Danilo Murru

Is there any contemporary artist, photographer or writer, even if young and emerging, who influenced you in some way?
RO: One of my all time favourites is Robert Frank. He is 94, and his work is more relevant than ever. Especially his early images. For me his work is a master class, not only in photography, but also narrative –really bold and experimental- and a sense of humanity that's very rare. I see his influence everywhere, especially in the young and emerging photographers.
Three books of photography that you recommend?
RO: For the last few years I've felt very excited about photobooks as a platform for contemporary practices. Three books I've got on my desk at the moment are Otsuchi Future Memories by Alejandro Chaskielberg, The Observation of Trifles by Carlos Alba and For Bird's Sake by Cemre Yesil and Maria Strum. All three are exceptional. I wrote a review of the Otsuchi Future Memories if you want to read more about it here, also a short presentation for Carlos' book. The third I found by coincidence at Bristol Photobook festival, and has got me thinking a lot about photography and narrative, but also on books as objects.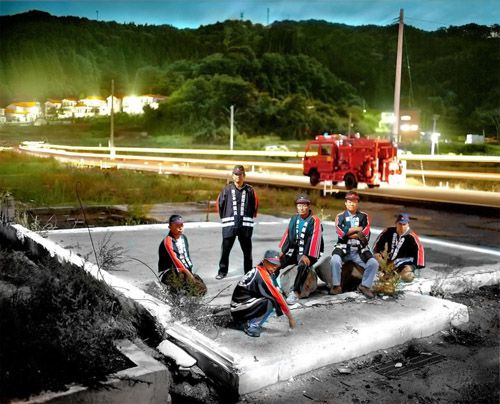 © Alejandro Chaskielberg, from 'Otsuchi Future Memories'
Is there any show you've seen recently that you find inspiring?
RO: I loved Fernell Franco's retrospective Cali Clair-obscur at Fondation Cartier in Paris. It was very meaningful for me because of the personal ties with my home country, Colombia, but also because I met Fernell once when I was very young. His work is amazing, and this exhibition presents the whole span of his production, from early experiments in the 1970s to his last works at the end of the 1990s.
What are your plans for future projects?
RO: I am now working on the second Champion photobook, and also on an exhibition idea for the Encontros Da Imagem festival in Portugal. I want to show more work from Latin American artists and photographers, there's a lot of exciting work coming from there.
I balance these projects with consultancy for private clients, and teaching. I want to be more proactive with teaching, trying to break the mould of how photography is taught. I am thinking about creative ideas for workshops, getting students out of the classrooms and into the world, into museums, galleries and private collections. I think the EU has a fantastic network of photography collections, museums and public galleries, and it seems a shame not to make the most out of them.
How do you see photography evolving in the next decade, particularly in the light of new digital developments and the Internet?
Photography has become ubiquitous thanks to technology. With a camera in every phone and constant connection to the Internet, photography is more present in our lives than ever before. Disposable photography (images meant to be seen and deleted) seems to be the spirit of this present moment, and definitely will be for the next decade. But I also think there is a very exciting countermovement. There are books, books will always be around. There are also artists and theorists, shooting less and thinking more, questioning contemporary practices and their connections with politics and media. It is a balance between a very intense but short-lived production of images, and slower, more conscious practices. The later for me, see beyond the exhausting instantaneity of contemporary media –the obsession for millions of 'likes'- to think about what's really important: how photography will be the evidence of our life and times way after we are all gone.

---

LINKS
Rodrigo Orrantia
Book 'What Remains' available from L'Artiere
Video Champion Photobooks V.1 - What Remains