KEVIN LEE. SUDDENLY THE GRASS BECAME GREENER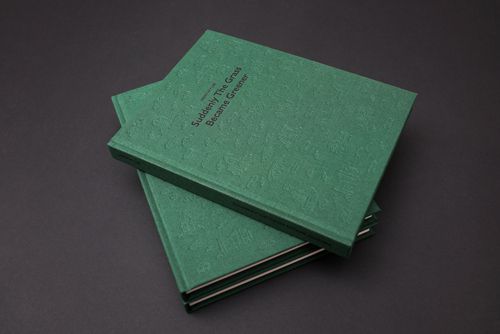 Many know first prime minister Lee Kuan Yew as a well-respected father figure in Singapore, but the founding father of modern Singapore is also the chief gardener. He introduced the idea of the garden city in 1967 and created national and community parks. Older Singaporeans may recall that "Suddenly The Grass Became Greener", which is also the apt title of Kevin Lee's latest photo book. The noted founder of Invisible Photographer Asia, the ever-growing platform of photography in Southeast Asia, turned his lens to the omnipresent greenery on the country's fiftieth birthday. Beneath the daily scenes of parks and vernacular images of garden wanderers, is an alternative and more nuanced narrative of Singaporean history. I talked to Kevin about his book and his editing process.
Your latest work 'Suddenly The Grass Became Greener' is more than just a documentary on gardening, I know it has a more subliminal and subtle narrative on Singaporean history. Could you elaborate on the historical context of these images?
Kevin Lee (KL): The work was made during a historical time but is more a personal perspective and interpretive in nature so I would not be so bold as to describe them as being historical in and of itself. There are a lot of other straight documentary and photojournalistic work done by other photographers that recorded events as they happened that traditionally one would say have more literal historical value. The intentions of those other works were recording for posterity so they play more of that kind of contextual role we might argue.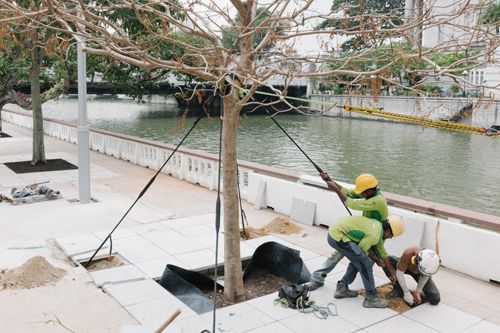 © Kevin Lee
2015 was the 50th anniversary year of Singapore's independence so the state poured a lot of funds and resources into photography and arts and called for creative works about the nation and her history. A lot of work was funded and made across the creative fields. 'Suddenly The Grass Became Greener' is a response to the call too, but from a personal capacity and point of view.
I am very invested in Singapore photography so it is good to contribute as a practitioner, alongside my other curatorial and facilitation efforts.
Why a book at this time, during the 50th year of Singapore as a nation and the death of the first prime minister Lee Kuan Yew?
KL: The gardener died when the garden bloomed and the flowers finally blossomed. It can't get more poignant and poetic than that. Now while the book and its images depict the Singapore story and condition, my deeper interest and reflection is sociological in nature. Mortality and how we, as people, deal with being mortal was a key meditation when authoring the work. It's about Singapore, but like a friend from India said to me, she finds affinity with the themes explored in her own country too. With globalisation, everything and everywhere is becoming more 'same same' than different.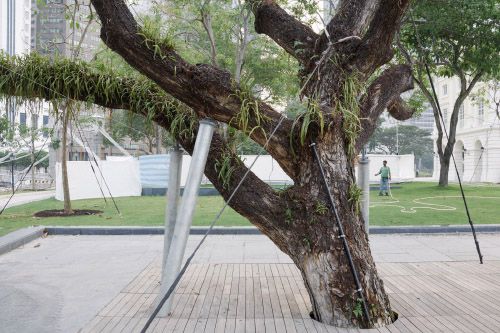 © Kevin Lee

How did you come upon this topic? How long does it take for you to shoot? Did you shoot with the goal of making a photo book?

KL: My process is intuitive. I merely respond to my environment and what happens around me. Making images and arranging them is almost akin to speaking out loud to myself, and giving thoughts, ideas and reflections some tangible form. The book was specifically of images made and collected in 2015, one year. I was very productive last year and made a lot of images and work. In fact, a lot of other photographers and artists were too. I have a lot of images of Singapore from many years, in different forms and folders. Suddenly The Grass Became Greener was made intuitively with the book only as an after-thought. And for this, I wanted a classic, formal book in the way the images were presented, the way the typography was set, and the way the pages felt and was bound between a fabric hardcover. I also wanted to explore a book that was both poetry and prose, with images and essays.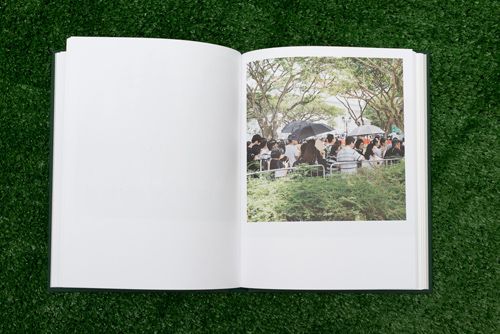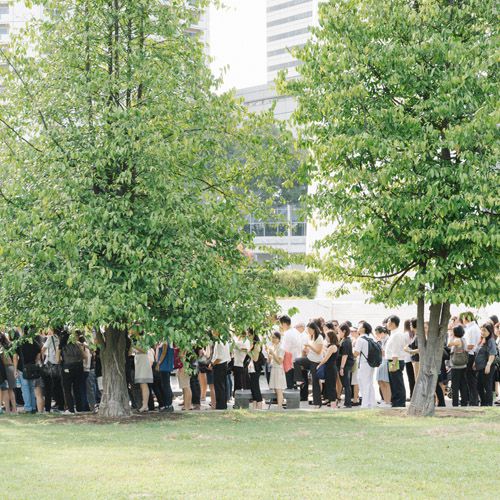 © Kevin Lee
Another work that I did last year for Exactly Foundation, titled 'Northeast Hinterland', will also be made into a publication by the foundation. My Singapore on Public Notice series has been invited to exhibit later this year at a photo festival too. I'm happy that the various works will eventually materialise in different forms and presentations.
But 'Suddenly The Grass Became Greener' felt right to publish as my first book.
As an independent curator, you have stressed a number of time the importance of editing in several interviews. Can you describe your editing process?
KL: I've edited a lot of works now, my own and for many others, and different types of work. The process is different with each, but I can say I rely a lot on intuition that is informed by experience, sympathy, logic and eye. But having said that, the edit should ultimately serve the intent and vision of the work. I've previously written a long piece on editing that has a bit more elaboration. You can read it here.
You incorporated some black-and-white archive images into your photo book. How do they relate to the other images?
KL: They are a collection of discarded vernacular images of people frolicking in imagined gardens in Malaya circa 1930s–1970s. Some of the photos have deteriorated and faded rendering a ghostly quality to the image and subjects. As with Susan Sontag's suggestion, we participate in the subjects' mortality by looking at the images. They add nuance to book, completing the narrative and cycle so to speak. Beginnings and endings. Birth, death, and questions of renewal.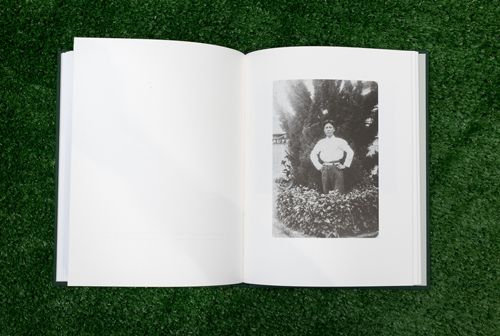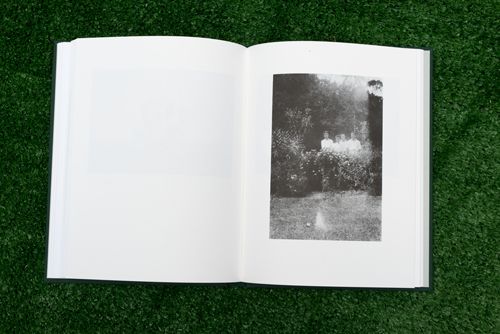 Green is a major motif throughout your book. In a previous conversation we had, you spoke of the political implication of white in Singapore. Could you elaborate on that? Does green play a similar role in your book? What does green means to you?
KL: Well, white is the uniform of the dominant party that has ruled Singapore all these years. There is hardly an alternative. The term 'men in white' is used frequently in jest and joust, in art and writing. White is pure state power. Green is the colour of the gardener's dream that we all labour to realise, and it is omnipresent.
What is your advice to young photographers who wanted to make photo books?
KL: You can learn a lot by making a lot of one-off artist books and dummies. Not every work needs to be a book nor expensively published in numerous quantities. I have quite a few dummies sitting on my table. I still believe in good content and pictures before good book and object. Book topics or subjects can be silly or serious, but should be well thought out and crafted. Work with people with different skills (editing and designing) who share similar sensibilities and sympathises with the type of work you're interested in. Hang out and converse with other people who are serious and obsessed about photography and books. Look beyond the photobook at other types of publications and art practices too.

© Kevin Lee
Lastly, if you're making more than one copy of your book, that means you're making the book for someone other than yourself. Consider who that is.
Obviously, publishing a photo book is an entirely different experience from producing a photo story. What took you off guard in the process? What are some unexpected challenges in the making of your new book?
KL: I have a background in design and have printed other books and literature so the production aspect was not unfamiliar territory. Self-publishing your own photobook though opens up a lot of questions, like what can you best do with what kind of budget. How are you going to fund this? Who are the audience? What paper, binding and finish do you want? You may face scenarios at every stage of the production where you may need to make changes to the original conception and design.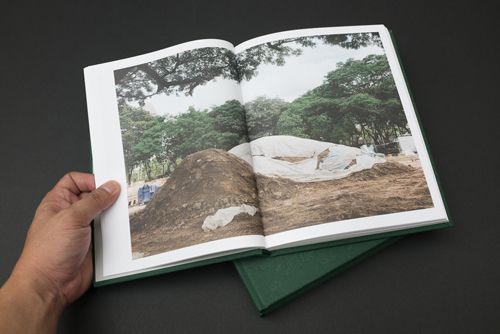 Finally, self-doubt is part of the artistic and creation process and you encounter it all the way. Especially if you're self-publishing. Because you're investing not only finance and resources but also your heart and soul, that is, if you're honest with the work. But you overcome it all by standing firm, believing in what you're doing, and accepting vulnerability, in every sense of the word.

---

LINKS
Kevin Lee
Book available
Suddenly The Grass Became Greener is also available at the following stockists in Singapore: Objectifs Centre for Photography and Film, 155 Middle Road and Basheer Graphic Books, Bras Basah Complex and The Salt Yard, Hong Kong.