FRANCOIS RONSIAUX. UNITED LAND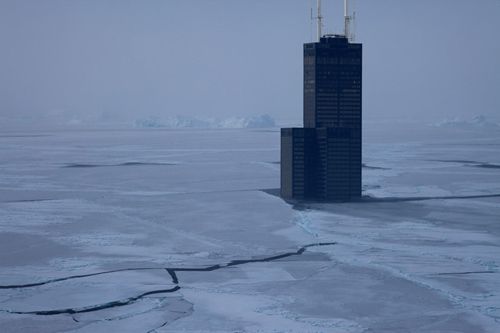 © Francois Ronsiaux, 'United Land', Inversion de Pôle 02

Tell us about your approach to photography. How it all started? What are your memories of your first shots?
Francois Ronsiaux (FR): I didn't learn photography in school but like many people in this period, I began to play with black and white films on objects, land art and urban life. I say "play" because at that moment it was not my plan to pursue this in a professional way.
The first significant photographic experience was during my first trip to New York when I was twenty-three. That was where I discovered my passion for pictures. I was so excited because the architecture was very different than in Europe and I spent a long time experimenting with photography, day and night for two weeks. Two years after that, I had the opportunity to enter the artistic network of squats in Paris and set up my first exhibition. It was the beginning of my personal research and experiment on photography and art in general and I had the opportunity to meet a lot of artists and to get different viewpoints on art.
How would you describe your personal research in general? How did your research evolve with respect to those early days?
FR: My photographic research in this previous period was focused on photosensitive emulsion of objects I created and to find a way to transcend the limits of the medium. My small apartment was transformed in a temporary laboratory during this period.
At the same time I decided to create an art structure to organize projects, to mutualise each others' knowledge and ideas while collaborating in projects; "L'entreprise" is born in year 2000 and was a dynamic association of 40 members from different countries.
An the same time, photography techniques were in a strong numeric revolution; now it was possible for photographers to learn and develop their knowledge by themselves and control every part of the medium. For me it was the beginning of profound questioning and the possibility of creativity during the process of creating a picture. With this experience, I'm actually sure to work not only with photography but use all media to construct my art projects.
Tell us about your project 'United Land' that was exhibited recently at the Le Cube?
FR: 'United Land' project began in 2009, after 4 years of reflexion on the Indonesian Tsunami of 2004. 'United Land' is a global photography and visual arts project that explores the notion of territoriality and men's psychoses when confronted with the possible disappearance of his vital space. The project is articulated around the «Survival Map», representing the planet earth with a sea level higher than 300m from the year 2012, date of creating the map. Every monument, building, natural element, exceeding a height of 300m is represented by a symbol and directs photographic mapping project.

© Francois Ronsiaux, Survival map, 'United Land'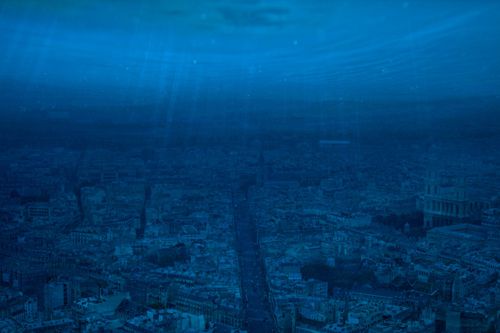 © Francois Ronsiaux, 'United Land',unutopic picture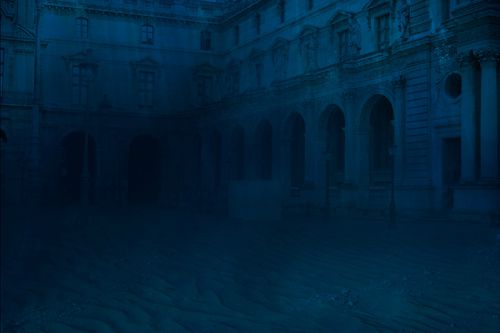 © Francois Ronsiaux, 'United Land', unutopic picture
'United Land' represents an instant of time where activity and movement are halted and human effort is subjected to contemplation thanks to utopic underwater landscapes that are definitively unaffected by outside influences with the exception of marine erosion. Symbolising men's loss of control of the environment, water becomes a regulating vector replacing men's habitat following a hypothetical ice thaw. Through this immersion the idea of belonging to a political and human territory loses all meaning and becomes an abstract. The different exposures taken all over the world are identifiable but in 'United Land' only the longitude/latitude co-ordinates are recognized – the photographs do not belong to any geopolitical identity.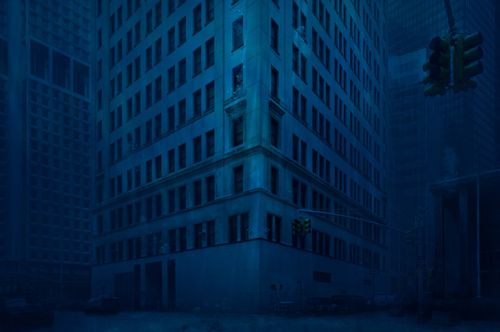 © Francois Ronsiaux, 'United Land',unutopic picture

What do you think about photography in the era of digital and social networking?
FR: Is it actually again possible to speak only about photography? A large part of artist photographs are similar to reality traficants and use not only photography but the ensemble of informatic possibilities to squeeze out their artistic concepts. One of my last projects 'Posture' is based on the concept of the disembodiment of the image and the perception of reality in the time of mass media.

© Installation view 'Posture' at Plateforme, Paris
The project tries a pictorial approach exposing the intrinsic link between power and politics by calling the symbols of our near or distant fantasy. For a subtle mix of different periods of history, the project consists of a storage device of a global aphorism based on impressions, mental images or historical preconceptions. Disembodied images and decontextualized objects play the score of a modern era where bits of multiple information are not considered participating in the more or less fantasized global collective imagination. Some pictures of the project 'Posture' diverted from their contexts are from journalistic, photographic from the web and have a copyright; their reappropriation is assumed and justified by the concept of the project.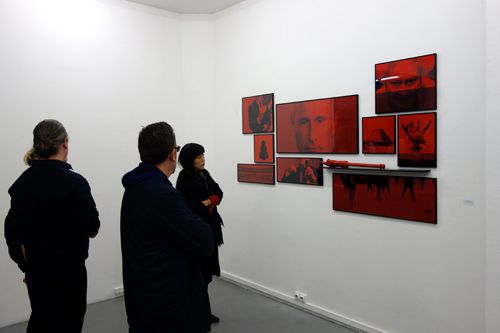 © Installation view 'Posture' at Plateforme, Paris

You are also the director of a place dedicated to contemporary art diffusion, creation and resources, Plateforme. Can you tell us more about it.
FR: Plateforme is dedicated to contemporary art diffusion, creation and resource and works as a unifying and shared space, a place of exchanges between artists, curators and audiences.
Plateforme is run by the Parisian structure L'entreprise bringing together around fifty international artists and comes from a desire to create our personal concept of artistic place after our experience of artists squats. My personal point of view is that something is missing between creators, curators, galleries and the art market, the link is very difficult to develop and art is working on a linear approach. Plateforme tries to create a transversal way between them and expand the dialog between the different layers of art scene in a dynamic way.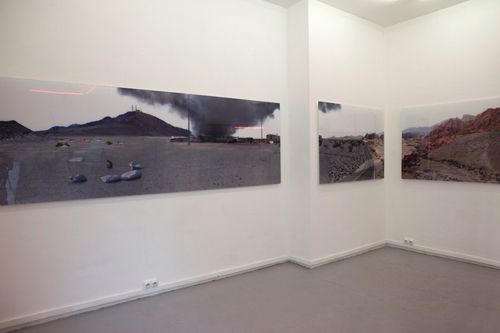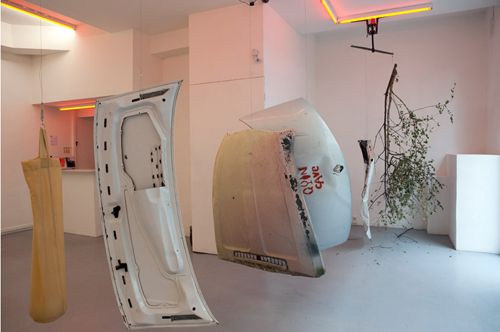 © Francois Ronsiaux, Projet Jacob's Mirage Park, Plateforme Paris, 2013

Is there any contemporary artist or photographer, even if young and emerging, who influenced you in some way?
FR: I'm very sensitive towards artists who work on fiction and science fiction. One of the best experience of global art was Matthew Barney with the Cremaster exhibition in museum of modern art in Paris. He is officially a celebrity but formally not very popular with the critics and art professionals. Maybe because he draws on very commercial and attractive subjects. But for me the most important thing is to feel a project is totally habited.
In the photographic domain, a lot of interesting projects exist, for the French ones I like the Space project of Vincent Fournier who makes an interesting mix of fiction, true documents and mise-en-scène. The second is Nicolas Moulin, who uses false archives and futuristic architectural phantasms in his projects to create artificial black and white paysages. The third can be Vincent Debanne who uses not only photography but also 3D to create phantasmagoric stories and fictions on different subjects.
Is there any show you've seen recently that you find inspiring?
FR: For me one of the most interesting photographic exhibitions actually is Cinquième Corps of Noémie Goudal at Le Bal.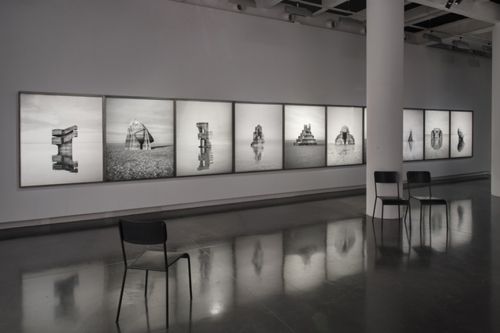 © Installation view 'Cinquième Corps' of Noémie Goudal at Le Bal. Photo by Martin Argyroglo

Three books of photography that you recommend?
FR: An interesting point of view on Photography: Roland Barthes, Camera Lucida. Reflections on Photography. The book Hope of Ewin Olaf. Post-Photography: The Artist with a Camera, Robert Shore, by Laurence King Publishing.
Projects that you are working on now and plans for the future?
FR: I work on a new installation of artificial icebergs under a glass dome, a mix between ice technology and 3D print; the first show of this project will be on Variation media art fair on the 17th of October 2016.
A new show of 'United Land' project will be on Sorbonne Art School in the second part of the year, and the actually Cube exhibition finishes on the 23th of July 2016.

---
Proofreading by Laura Lee Bral

---

LINKS
Francois Ronsiaux
Plateforme
France