CHARLOTTE LYBEER. THE EMPATHY OF THE DETECTIVE
Tell us about your approach to photography. How it all started? What are your memories of your first shots?

Charlotte Lybeer (CL): My master project at the KASK Ghent was the 'real starting point'. I made a documentary about a gated retirement community in Florida, the series "The Fountains where living is a pleasure!" (2003) which combines portraits, still lifes, interiors and reportage style photographs. I lived and photographed for 2 months in the closed and walled living area that was exclusively for the elderly. "King&Queen" is the main picture of the series. Every year the most popular man and woman were elected. The portraits still reflect four characteristics that are important in my work. The documentary nature of my photography. The straightforward visual language that I chose (which is reflected in thematic series), I attach great importance to aesthetic choices: refined images, balanced compositions with a particular emphasis on color. Despite the sensational character of my topic, and the humoristic tone, I wish to approach the participants with respect and photograph them in their full dignity. And I like to capture a tension between theatricality and everydayness in one photographic image.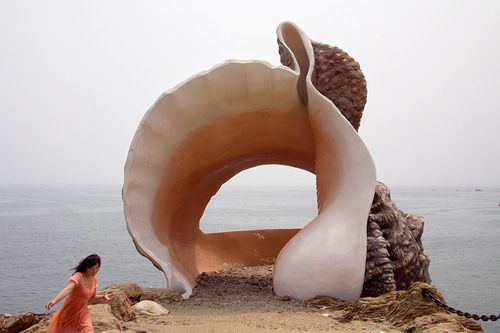 © Charlotte Lybeer, The Shell, from the series 'Kingdom of Discovery', China, 2007
During my two years of post graduate study at the Higher Institute for Fine Art Antwerp I focused more on gated lifestyle communities in South-Africa (Woodhill, gated lifestyle community 2005). Subsequent to it, I made documentary projects in an indoor beach complex in Germany (My Tropical Island 2006) more contemporary themeparks where photographed in China (Kingdom Of Discovery 2007) and in Dubai I focused on gated communities, theme parks and streetscaped malls (Dubai Inc. 2008) .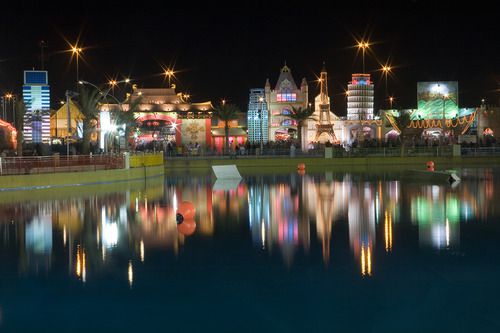 © Charlotte Lybeer, Global Village - from the series 'Dubai Inc.', 2008
For those projects I examine applications of what the philosopher Lieven De Cauter calls the 'capsular civilization' . In the same book from 2004, he sketches the image of a society dominated by fear, exclusion and simulation. Those safe and completely controlled zones that simulate a paradisical atmosphere,are constructed by property developers in a meeting room and usually have nothing to do with the original site. The success of these enclaves proves that although we live in a 'borderless' society we still yearn for manageability. An architectural decor is created that becomes a staging in which the occupant can escape everyday reality.
© Charlotte Lybeer, Jacuzzi, from the series 'Woodhill, gated lifestyle community', South Africa, 2005
How did your research evolve with respect to those early days?

CL: My recent work centralizes people who physically step over the boundaries of fantasy. Recently I photographed people who define their identity through codes and masquerades that demonstrate membership to one group while distancing themselves from mainstream society. I portray subcultures that are related to virtual three dimensional worlds, where players construct a second identity online. It is characteristic that these trans-human identities also be adopted outside the virtual world. Those photographic projects visualize how people respond to a changing world: a world that expands geographically but is also increasingly imaginary. In those series I want to capture the isolation and stillness of my subjects, their escapist desire to become the character of a dream, shaped by film, virtual reality and games.
'Larp, taking a holiday from everydayness' (2009) consists of 20 Flemish and Dutch LARP players. LARP stands for "Live Action Role Playing", a game in which participants transform themselves into self invented characters inspired by games, movies or fantasy literature. "The Furtastic Adventures of The Cabbit and The Folf" (2011- 2012) emphasizes the furry fandom and consists of 'fan groups' of anthropomorphic animal characters with human personalities. I photographed Belgian, Dutch, French and German members of the furry fandom. In those twenty portraits, I have taken back the so called furries to their own living rooms. The costumes that show us the participant's character when in 'furry mode' clashes with the homely atmosphere that reveal small things about the participant when 'out of character.'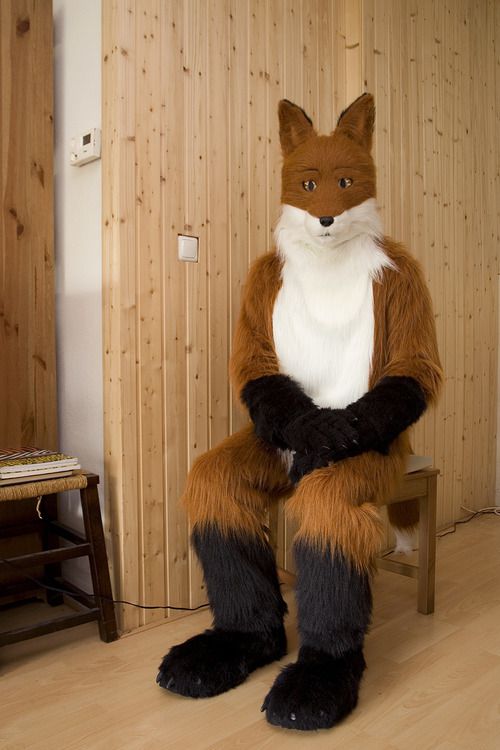 © Charlotte Lybeer, Forfaox - from the series 'The Furtastic Adventures of The Cabbit and The Folf', 2011-2012
CL: I'm convinced that in-depth research and photographical documentary experiments are necessary in our visual culture that has to deal with an oversupply of digitally manipulated images (in art, commercial and even press photography) I'm sure it can be usefull for the next generations and I find it necessary to document (period just after the digital revolution) the surrealism of our reality. The world of digital and social networking is developing fast and that's stressfull but on the other side there's an interesting urge to counterbalance, to photograph and present work where we can escape this rapidity and instead , slow down.
About your work now. How would you describe your personal research in general?

CL: As a photographer I try to combine the curiosity of the journalist researching actual phenomena – symptoms of the global, capitalist crisis – the empathy of the detective infiltrating enclosed worlds, and the sensibility to capture the way fiction transforms reality.
Do you have any preferences in terms of cameras and format?

CL: Since 2007 I'm working digital with my Canon 5D, before I photographed analogue with a Pentax 6/7.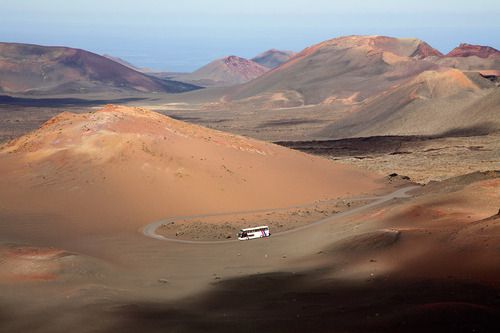 © Charlotte Lybeer, Lunar Route (Lanzarote 2014), from the series 'Champagne Dreams on a Beer Budget, (2002-2014)
CL: 'Lifestyle Supermarket' is my phd project and consists of uncanny portraits and close-up shots of members of the zentai community. Zentai is a term for skin-tight (often flesh-coloured ) suits worn to cover the whole body that allows people to transform into a new 'simplified' self. The feeling of being totally enclosed and separated from the rest of the world. Those subcultures are of Japanese origin, but I choose to photograph in Belgium and our neighbouring countries where this alienation is less expected.
I invite the members to my own living space and frame the photograph in a way that the viewer can only see a wooden floor, a white wall, a grey carpet,… A choice that represents the idea that it could be anybody anywhere. A generic atmosphere where humans transform into silhouettes which more resembles nude manikins or default avatars. In the act of disguising and movement, I capture a moment of stillness when they transform from their natural identity into a faceless form.
I chose the title after reading the book 'Cyberspace Odyssey'. Jos De Mul describes postmodern society as "a supermarket of lifestyles" where the individual is deemed to shop together his identity. Due to the enormous developments in the field of transport, communication, social and personal life (changing gender roles, leisure industry) the number of activities in which the postmodern man can give practical meaning to itself and the multiplicity of social roles he plays has increased. The 'personal identity' is no longer accepted as fact, but rather as a never-ending task.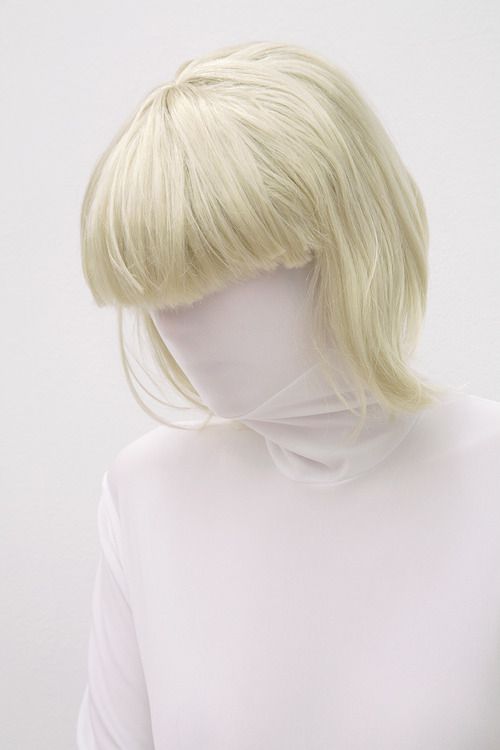 © Charlotte Lybeer from the series 'Lifestyle Supermarket', Yes, 2013


Is there any contemporary artist or photographer, even if young and emerging, who influenced you in some way?

CL: The masters such as Diane Arbus, Stephen Shore and William Eggleston are a big influence for me. But definitely also the younger generations, such as Peter Granser, Viviane Sassen and Hannah Starkey. And absolutely every project Paul Graham made, from "A1 The Great North Road" until "Does Yellow Run Forever".
Three books of photography that you recommend?

CL: 'Revelations' by Diane Arbus, 'The Valley' by Larry Sultan, 'Uncommon Places. The Complete Works' by Stephen Shore.
Is there any show you've seen recently that you find inspiring?
CL: The retrospective exhibition of Jeff Wall at the Stedelijk Museum Amsterdam and Philip - Lorca diCorcia at De Pont, Tilburg.


© Charlotte Lybeer, Girl with a Pearl Earring Turkije, 2011 from the series 'Champagne Dreams on a Beer Budget, (2002-2014)
CL: I just finished a presentation of "The Furtastic Adventures of The Cabbit and The Folf" in the Gare du Nord Paris for the Circulations Festival, a festival for young European photography. I'm working on an exhibiton for
De Kunsthal Rotterdam
. And I'm working on a book with my recent series and solo exhibition at Netwerk Aalst (beginning 2016).
How do you see the future of photography evolve?
CL: Because photography is everywhere it will be more and more difficult to stand out. But that's a challenge and I see the future positive with many new approaches. Every year I'm surprised and amazed by new work of "the big names" in the world of contemporary photography but also by our students. So the future's promising!

---

LINKS
Charlotte Lybeer
Belgium