DRIES SEGERS. NO TRUTH IN PHOTOGRAPHY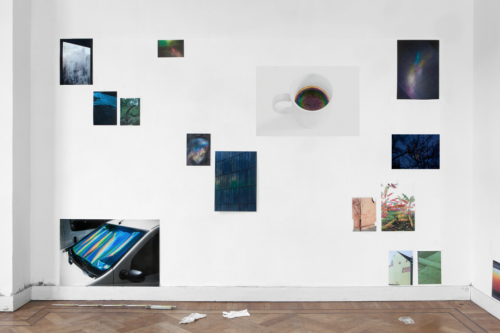 Installation view 'Seeing a rainbow (through a window that isn't there)'
Tell us about your approach to photography. How did it all start? What are your memories of your first shots?
Dries Segers (DS): It started because I was jealous of a friend who had a camera. It felt as if he was copying my dream, which wasn't my dream at that time, so I copied his. I think I don't want to talk about my first shots, it had something to do with chicken. (laughs) Before I started to photograph, I don't remember anything else than that I was creating images the whole time. So not much has changed.
How did your research evolve with respect to those early days?
DS: From early on I started to work for magazines, newspapers as a portrait photographer. I was in search for emotions, not just the façade, I always wanted to make something visible of the sitters' energy. That might sounds spiritual but it's not. Photography is not able to give you answers so you need to give clues, possibilities.There is no truth in photography.
The work I make now has more to do with what people leave behind. What they create without knowing it. I'm more interested in their traces than in their faces.
Concering your work now: How would you describe your personal research in general?

DS: The Belgian phychiatrist 'Dirk de Wachter' put it this way: «The big problem of our time is that we are in search of fantastic, unusual, special, exotic and extreme impulses and experiences. That's exactly what kills the love. Everything we own becomes worthless, without value. The art of love lies in the beauty of the ordinary.»
And let this be exactly what I'm doing, I'm in search of the extraordinary in the basal world. Let us all be more surprised about what's just in front of us. That's why I use the public space as my atelier, to be close to what's available for anyone.
My work is not a visual diary, the pictures aren't anecdotes. They are carefully chosen places, context, color, content and materials. I don't want to see them as memories.They are photographs who pretend to be images. It's how they relate to reality, to history and art itself.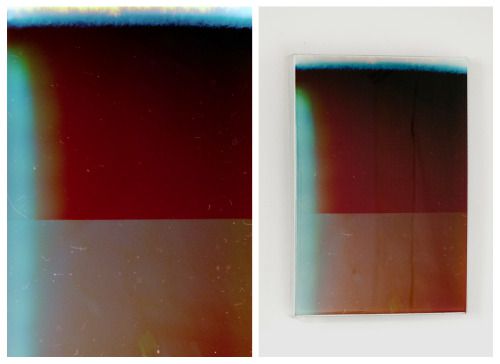 © Dries Segers, 'Undecided Photographs #4′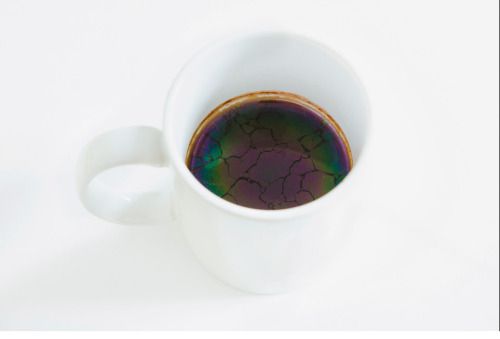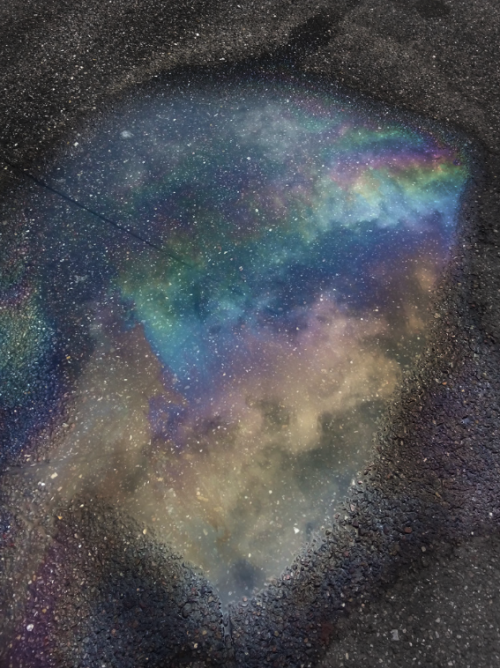 © Dries Segers, Seeing a rainbow (through a window that isn't there)'
In the project 'Undecided Photographs' I took it even one step further. 'Undecided Photographs' are images without any consciousness on the creation of the photograph. I question myself are these even photographs? By accidents and clumsiness these images came on my color negative through the back of the camera without any control or decision. Yet they are build up by the three key elements of photography: light, space and time. The construction of an location influences the images without any light getting through the lens. The proportion of daylight and artificial light (if even present) influences the result as well as the period of time the camera went open.
In other projects I mostly concentrate on concepts of wastage, details of the capitalistic landscape,… with a topping of aesthetics. Aesthetics as word means actually nothing more as the science of perception.
It's about guilt and hope. Hope for structure in a visual-polluted landscape. Does that make me an idealist? … I hope so.
We don't see things as they are, we see things as we are.
Anaïs Nin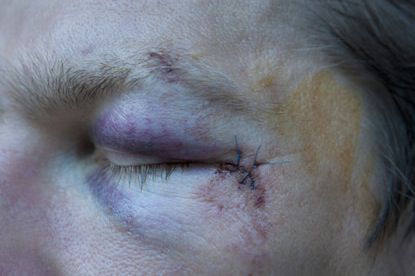 © Dries Segers, Seeing a rainbow (through a window that isn't there)'
Tell us more about your latest project: 'Seeing a rainbow through a window that isn't there'
DS: The last two years I've been working on this project. It will be published as my first artist-book, it works around an elementary wonderment on color and object. 'Illogical judgements leads to new experience.' (Baldessari sings Lewitt) Onlogics are the foundations of the work.
I use a rainbow as metaphor for a phenomena which is build up with two basic elements: water and the breaking of light. What is so striking is that so many people experience this as absolute beauty. The extra-ordinary in the normal, a rainbow is nothing more than that.
The entry of a standardised life, urbanisation, everything looks the same, yet if you look closer it doesn't. The street is able to create its own images, I'm there to find these. I'm not in search of a narrative or stories in this project. I'm in search in a way of looking at things, relations between concept and color or between texture and media.
The artist book will be released this year in May.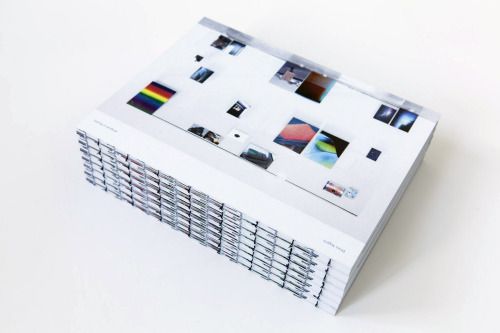 Book view. Watch video from here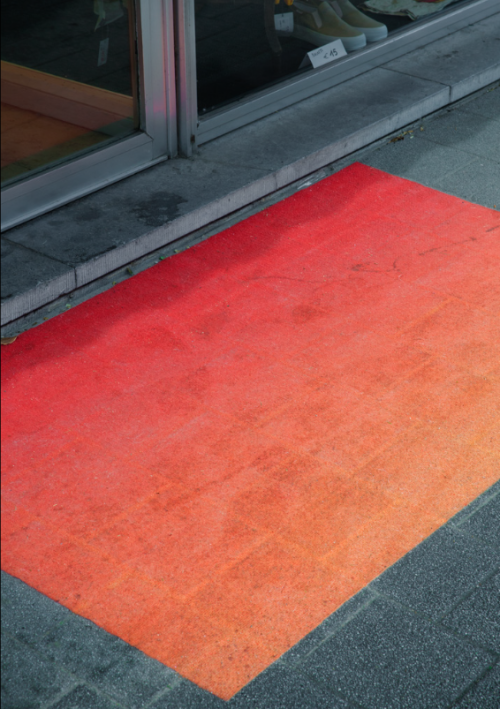 © Dries Segers, Seeing a rainbow (through a window that isn't there)'

Do you feel there is a correlation between your work and the work of Jan De Cock. How do you feel about his approach in relation to yours?
DS: Jan De Cock is an esthete. I'm an esthete aswell. But like I just said, aesthetics, strictly speaking, means the science of the sensory, of perception.
I think Jan and I both are artists that believe we can learn people how to look at images (created or non-created), how to experience them, how to put it in its framework. We do it in a different manner but the core is the same, we make beautiful things by using materials which are so common, materials which became part of boredom. Standards of which the viewer is not used to look at anymore.
I think his 'Denkmal' is a strong vision. Denkmal is actually the German word for the pedestal where a statue sits on. Denkmal is a monument. But in Dutch, or as you want, in flemish it means 'dense space to think'. Everywhere he sets up an artwork with the name 'Denkmal' he adds the housenumber to it. I got to exhibit in the permanent Denkmal 37 in Brussels together with Ash Bowland and artworks out of the collection of Dennis Van Mol. The show was titled: 'Dear Image, why are you so jaded?'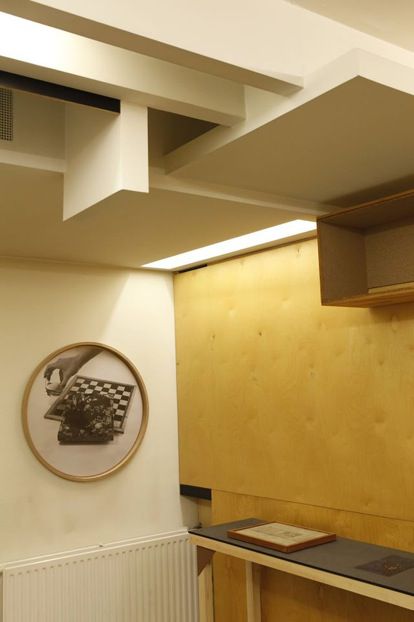 © Dear Image, why are you so jaded? Ash Bowland, Dries Segers & Dennis Van Mol in an artwork of Jan De Cock February 2014
Do you have any preferences in terms of cameras, equipment and format?
DS: I used to have preferences when I was twenty, now I grab whatever camera is around or with me. It's more about the camera lens then the camera itself. I even found out my cell phone works best in some situations to take an image.
What are three books of photography that you recommend?
DS: Stephan Keppel's 'Entre Entrée' by FW: books.
I found this book last year at RIOT, a new bookshop in Ghent with mainly contemporary photobooks. It immediately struck me that this research was laying quiet close to mine. Stephan Keppel collects and arranges images and objects in order to engage them in a long-term relationship. 'Entre Entree' is a project about the Parisian suburbs and the city's ring road, the Boulevard Périphérique, wherein Keppel conceives a fragmented and claustrophobic urban landscape, manifested through numerous black-and-white images of concrete facades, vegetation and the textures, shapes and materials that together form the entity of the city.
Ria Pacquée - Desert of Fragments, M HKA
This Antwerp-based artist plays with the role of humans in society, their patterns, characters, rules, admirations and failures. In early work she makes herself into a construction of an archetype woman called 'madame'. As a performance with madam she visits the entry of the Belgian queen in a theme park, she sells souvenirs of the men she loved, and so on. She's putting herself in this role-play with humanity and offers us a hilarious mirror. Through the book she also works with carefully selected words that make bridges between all the chosen projects.
Geert Goiris - Prolifération, Roma
Geert Goiris was my promoter during my master studies. This book is his latest work and is a deferred catalogue published by Roma (the publishing house of artist Mark Manders and graphic designer Roger Willems).
The work was made for an exhibition on a dam in Val de Bagnes, Switzerland. Geert is playing with the landscape in romantic and realistic traditions. He creates a fiction where you get confronted with uncanny realism. Yes, that's a duality but this makes it so compelling. In the book he plays with two different papers, also two different functions of the paper. First it makes you feel physically in contact with the object of the book, secondly he cuts out smaller parts of pictures to show these details on a mat paper. It gives a sense of the enormous impact of the site. Something Geert is able to do where I'm afraid of is making a narrative by also including humans in his pictures, which makes the reading of the work strongly ambiguous.
Where did you do your master and tell more about your promoter Geert Goiris?
DS: I did my masters at Sint-Lukas Brussels. Geert was teacher there until he moved to the academy of Antwerp in 2012. So he was my promoter for just a year. I had a bad love affair with photography at that time. In fact, I didn't want anything to do with it anymore. So I started an exhibition space and showed the work of other artists. When I was at school to talk about my work that I done, I had nothing to show because I didn't produce anything at that time. So the things Geert and I did were eating, talking and drinking coffee. The fact that he didn't want to push me in starting to get to work was really valuable for me because I learned a lot about my own work by showing and talking about the work of others. I still do.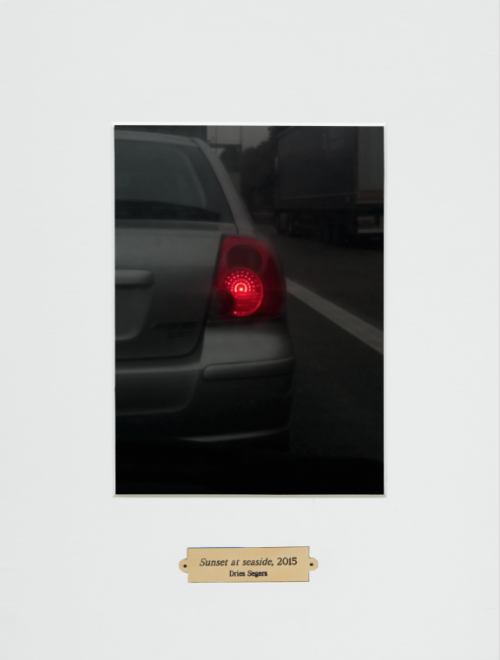 © Dries Segers, Sunset at seaside, 2015
Is there any show you've seen recently that you find inspiring?
DS: The show that impressed me the most last year was a solo of Wilfredo Pierto in SMAK (Ghent). He deals with dissipation and absurd inventions of humans. He makes minimalistic objects with daily materials. The main piece of the show consisted of two trucks with a big electric generator and a huge water tank that lit up and watered a small potted plant. Electric cables and watercables were in the whole museum, so you first had the idea they were renovating the buildings. Then you came to a little plant, a lamp and a watertab next to it. When I realised the lamp got light because of the enormous generatortruck outside I laughed so audibly. Pierto's work always gives winks to the consumption based society and capitalism, I love it when an artist uses poetry and simple imagery to create answers and extra questions. I hope I will develop the same talent he has.
Tell us more about projects that you are working on now and plans for the future?
DS: I'm working on several new projects. Something with plastics that destroys light and color, and also a second book, as well as a project on my initiative with a painter and a scientist.

---

LINKS
Dries Segers
Belgium