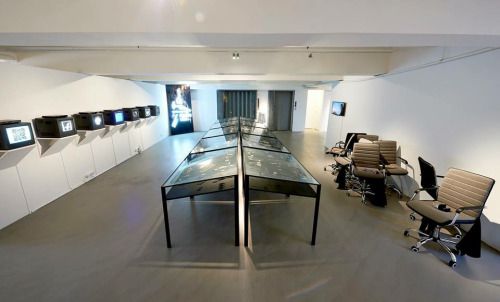 Installation view
On the Facebook event page of Parasite's latest show, the curatorial statement ends with 'The content of this program does not reflect the views of the Government of the Hong Kong Special Administrative Region,' as if the title of the exhibition is not controversial enough.
Hong Kong is often referred to as a melting pot of cultures, a city that can integrate even the most extremely disparate ideas: east and west, traditional and modern, colonial and post-colonial, this in-betweeness perpetuates every aspect of the city, from architecture, culture to its social representations. The postcolonial city thrives on this conflicted duality, yet it also brought about tension and ambiguity, making the search of identity an eternal motif for artists and writers to ponder upon. This is becoming especially visible in recent years when political and social intervention from Chinese government has become ever more apparent and flagrant. The discussion of election method of Hong Kong's Chief Executive in 2013 that led to the Umbrella Movement last year has revealed many unsolved conflicts after the handover and the frailty of 'One Country Two Systems' that granted Hong Kong legislative and judicial autonomy.
Since the handover in 1997, citizens of the orphaned cite are left to contemplate their identity in the confrontational yet inevitable relationship with her estranged birth mother. Chinese government was eager to rekindle the bond, yet Hong Kongers were not ready to adopt the 'Chinese' identity, seeing the country as less culturally advanced. 18 years went by, Chinese government grew impatient. During the last two years of debate surrounding the election of Chief Executive, it repeatedly asserted its political superiority, insisting that Chief Executive must be screened by the government to ensure the nominee is, as stated by the then-chairman of the Hong Kong SAR Basic Law Committee, Qiao Xiaoyang (喬曉陽), 'persons who love the country and love Hong Kong.'
It is under this time and circumstances, during the critical transition of postcolonial Hong Kong, that makes the artworks in the recent exhibition 'Imagine there's no country, above us only our cities' so interesting to look at. In the curatorial statement, Xixi's (西西) novel My City (我城) was mentioned as an inspiration for the exhibition. The rise in social consciousness during the economic boom in the 70s portrayed in the book has now once again prevailed among the young generation, this time fuelled by a politically-charged frustration and postcolonial angst. A kind of social consciousness that forces them to search for a new paradigm to sort out their identity.
© Yip Kin Bon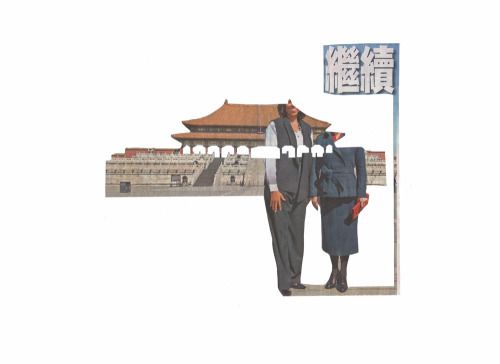 © Yip Kin Bon
Yip Kin Bon's 'Speech from Qiao Xiaoyang on 24th March' (2013) provides a good starting point into the discourse of this tension of identity. The collage consisted of 260 pieces of newspaper clippings, each includes photos of public figures or social events and an isolated Chinese character, recreates the whole statement by Qiao Xiaoyang on the criteria of Chief Executive Nominee. The whole piece, occupying the central spot of the gallery, offers an underlying social context for understanding the statement and its social implications, through comprehensive visual summary made up of photos from current social events.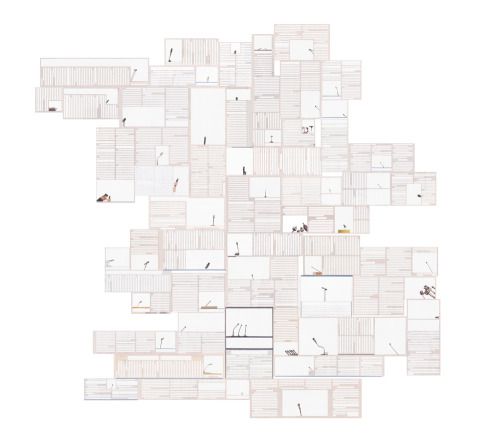 © Yip Kin Bon's 'Absent of speech' from Evening post series
Another work from Yip, 'Absent of speech from Evening post series', is newspaper cutout of press conferences. The artist manually removed the text and the person in the photos, leaving only the gooseneck microphone, creating frames after frames of empty speeches. The clippings, framed between two layers of clear glass, casts a hard shadow on the white background under the installation lighting, which further accentuates the emptiness of space and absence of politicians. The work is open to different interpretations, one may see it as a comment on weasel political words, impotent government officials or censorship , nonetheless, Yip's work created a strong framework to start the conversation about Hong Kong identity from a social and political perspectives.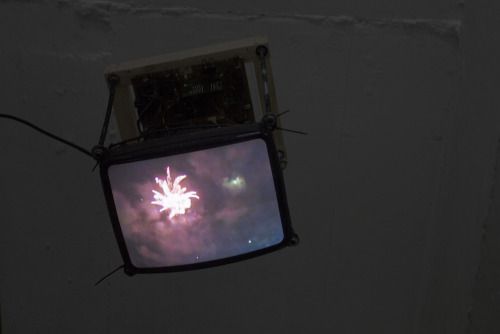 © Mark Chung
Not every artist portrayed the city's story from a political angle, some drew inspirations from unique scenes of Hong Kong lifestyle, such as horse racing and Victoria Park, romanticizing on these representations of Hong Kong identity. Mark Chung's video installation, 'Summers Without Fireworks', recreated the annual firework celebration by playing footages of fireworks in several overhead TV screens. The artist built a temporary environment for audience to watch fireworks from an impossibly close distance, an experience that is rare to most Hong Kongers since private fireworks displays are illegal. Compared to the government-funded public fireworks display that happens several times a year, his video installation provides a less opulent yet more personal pyrotechnic experience. This piece is also a commemoration of last year's cancelled National Day Firework Display, in honor of the victim of the Lamma Island boat collision which caused 36 deaths.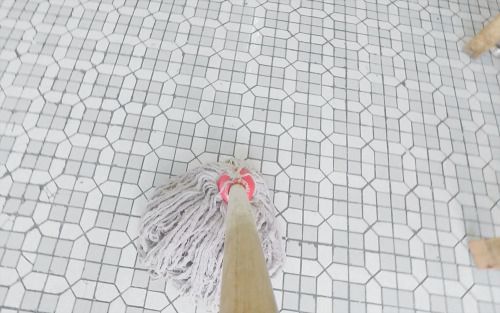 © Eason Tsang
Curator Jims Lam told me that most of the showpieces are made exclusively for the exhibition. These works are the result of several individual brainstorming and ideation sessions between him and the artists, which explore different approaches to portray the concept of identity in this city. Artists like Lau Wei and Eason Tsang seized this chance to experiment with new ideas. For Extract #3 and Graduation, Lau took images from her ongoing series 'album' and combined them with different pattern and shapes extracted from various passport she owned (which is common for Hong Kongers). One of her work has a UV layer of passport security pattern printed on it, an idea, the artist told me, that she wanted to try out for a long time.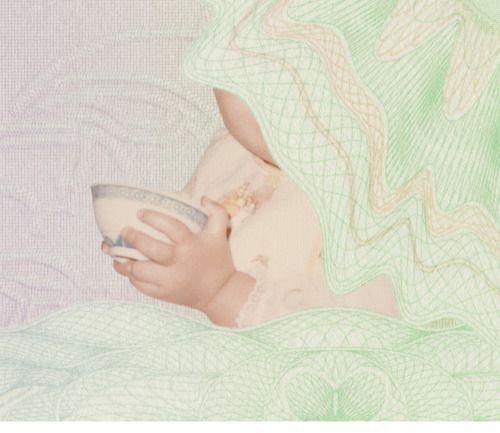 © LauWai, 'Extract'
Photographer Eason Tsang took a short break from photography and attempted videography this time. Aiming to document the interactions in Cha Chaan Tang, the artist tied a go pro camera on a mop and went mopping in the Hong Kong styled restaurant for several days.
The exhibition presented various interpretations of the city's identity during the awakening of a new social consciousness. Jims Lam said it is intentional. 'I wanted to present the complex concept through a collective dialogue of 12 artists, yet they hardly represent a conclusive theory to understand identity.' He later pointed out that it is impossible to expect a exhibition to provide a solution to the current social environment, however that does not mean Hong Kongers should shy away from this discussion. Much like the city itself, the stories told in these exhibition are multifaceted, some are more profound and well-thought out, others are personal and subtle, but none is the definitive narrative.
INFO:
Para Site
Location: 22/F, Wing Wah Industrial Building, 677 King's Road, Quarry Bay, Hong Kong
Date of opening and closing: 01.08.2015 - 06.09.2015

---

LINKS
Para Site
Hong Kong